We have a SUPER CREEPY HUGE spider living outside our family room window. My boys have been fascinated as they've watched it wrap insects, eat, and move around its web. They've named it "Spooky" and have asked if they can "keep him."
Yeah. That was the reaction I had too.
Spooky can stay outside—for an eternity—but, there are a few spiders I don't mind having indoors. We recently crafted several adorable Pine Cone Spiders for Halloween. They are a creepy-cute seasonal addition to the nooks, crannies, and shelves around our home!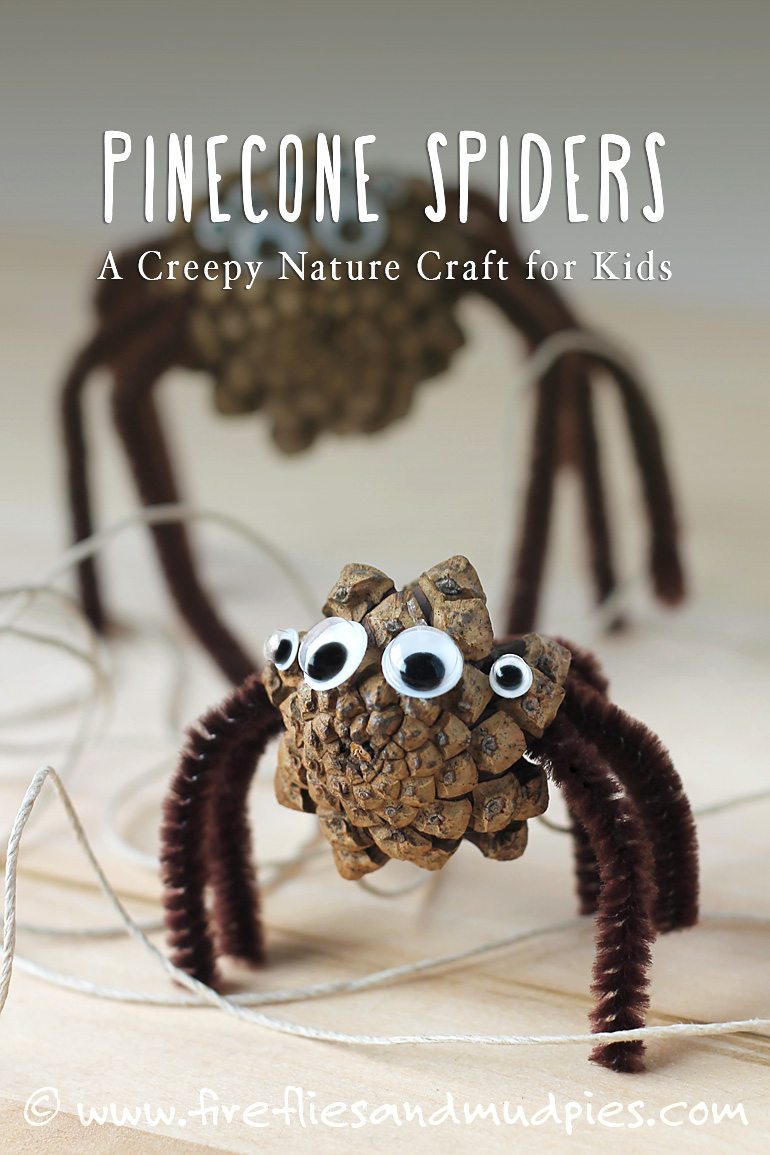 Wiggly Eyes and Brown Pipe Cleaners were provided by CraftProjectIdeas.com.
This post contains affiliate links. Opinions are my own.
Enjoy this craft for Halloween fun or use it as an opportunity to learn about the natural world. Though crawly and creepy, spiders are an interesting and essential creature.
Pine Cone Spiders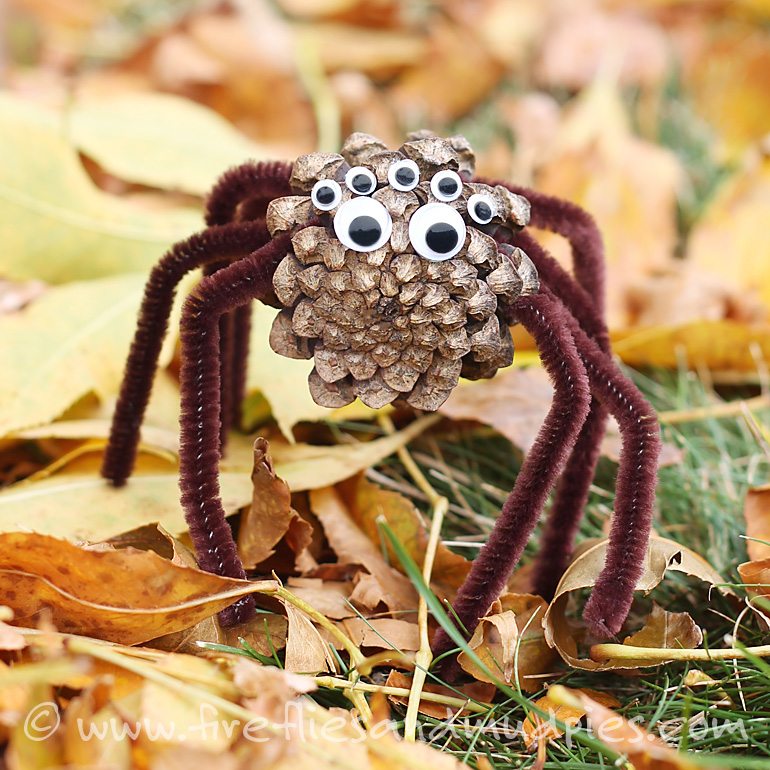 Materials:
Directions:
1. Wrap 4 full-length pipe cleaners around the pine cone to make a total of 8 legs. Shape the pipe cleaners into spider legs, adjusting the length with scissors if necessary.
2. Attach the wiggly eyes with hot glue to the bottom of the pine cone. We used images of real spiders as inspiration and learned that most species of spiders have 8 eyes! Some species have 6, and most ground dwelling spiders have no eyes.
3. Play and enjoy! Invite your child to use cotton butcher's twine for creating spider webs, or have some good old-fashioned fun with the water-spout!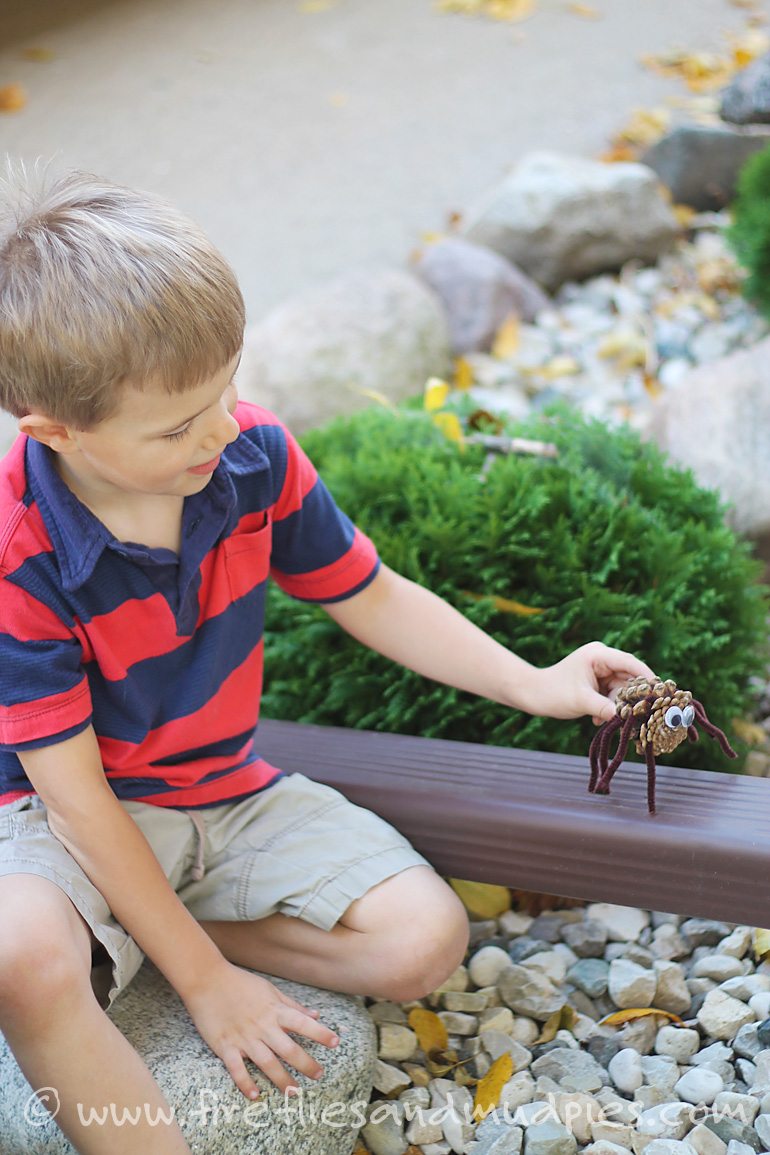 More Spider Crafts for Kids
Miniature Pumpkin Spider by Buggy and Buddy
Pin it | Original Post
Paper Plate Spider by I Heart Crafty Things
Pin It | Original Post
Spider Suckers by I Heart Naptime
Pin It | Original Post
Spiderweb Window Art by Fun at Home with Kids
Pin It | Original Post
Spider Handprint Craft for Preschoolers by Happy Hooligans
Pin It | Original Post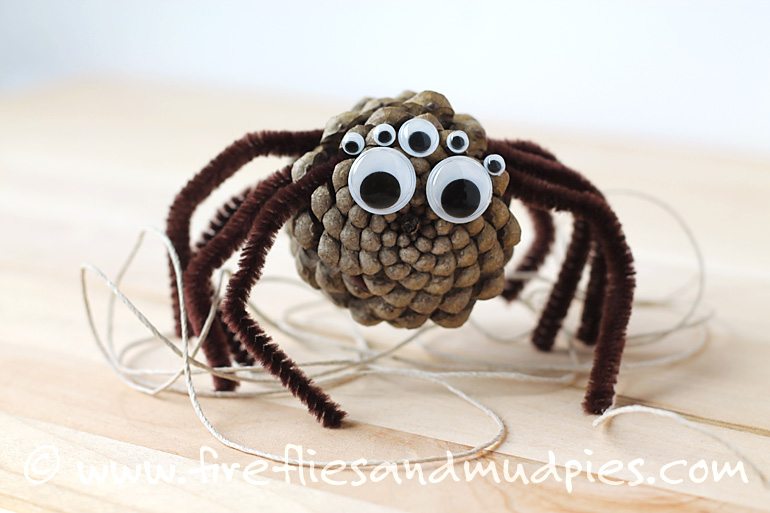 What are your kiddos crafting for Halloween? Share your pictures or posts with me on Facebook!