Inside: Mindfulness, or the ability to be fully present and aware, is an important skill for children to develop. In this post, learn how to make a glitter jar to promote mindfulness and calm in your home or classroom.

He stormed into my office, face hot and fists balled. I wasn't surprised, as his teacher had called and told me he was on the way. Without speaking, he reached for a blue, glittery jar on the table, shook it, then set it back down. With a huff, he fell into a nearby bean bag chair.
I quietly continued working. He wasn't ready to talk…yet.
Related: Anger Management Skills for Kids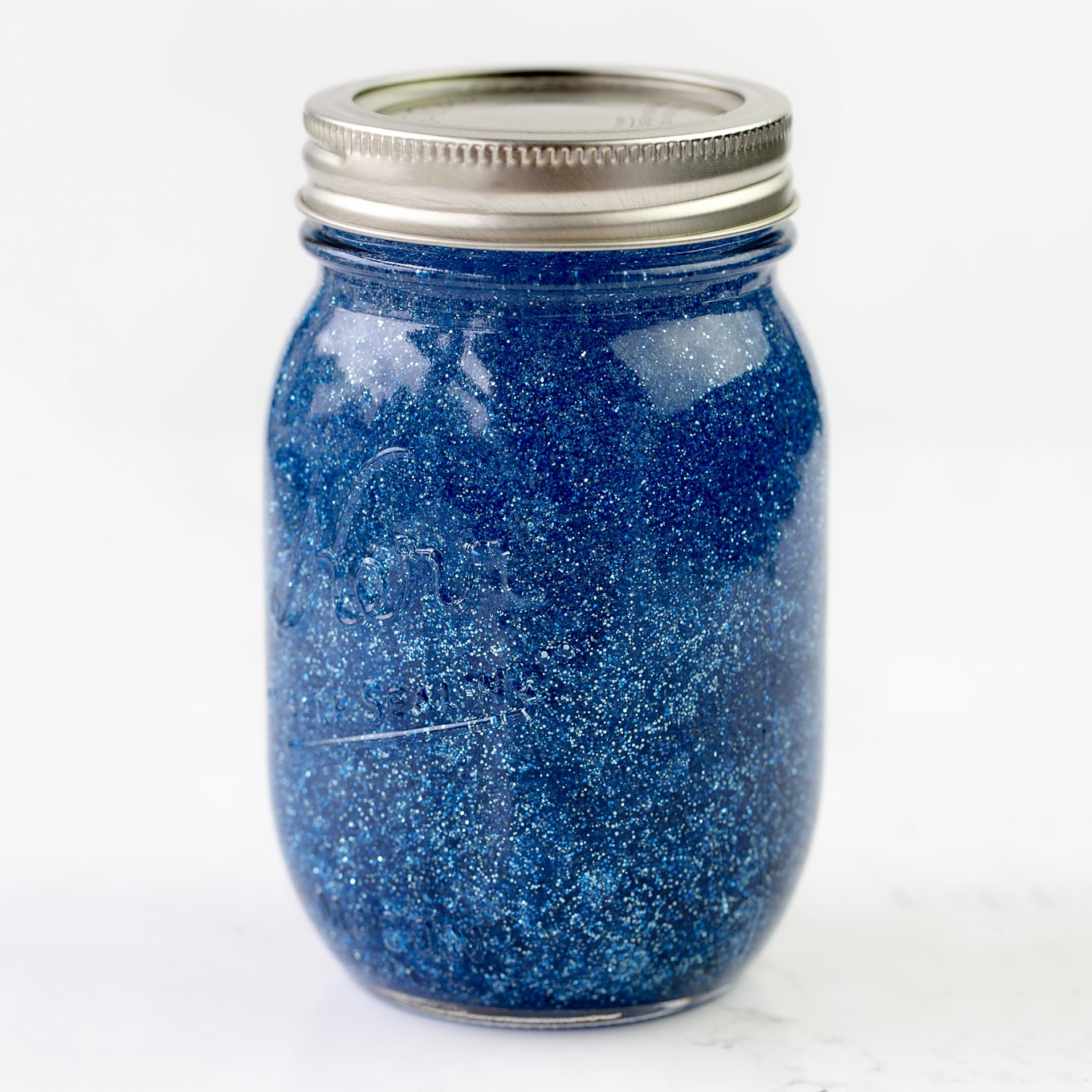 How a Glitter Jar Can Help Kids Control Their Feelings
When kids are stressed, sad, or angry, the amygdala's natural fight, flight, or freeze response kicks in, making rational decision-making nearly impossible.
Mindfulness gives kids space and time to calm down and pay attention to what is going on in their body and environment. Regularly practicing mindfulness reduces stress and increases wellness and self-control.
Glitter jars are a useful mindfulness tool at home and school. Watching the glitter swirl to the bottom of the jar gives kids time to calm down and regain control.
Related: Encourage Healthy Handwashing with LEGO Rescue Soap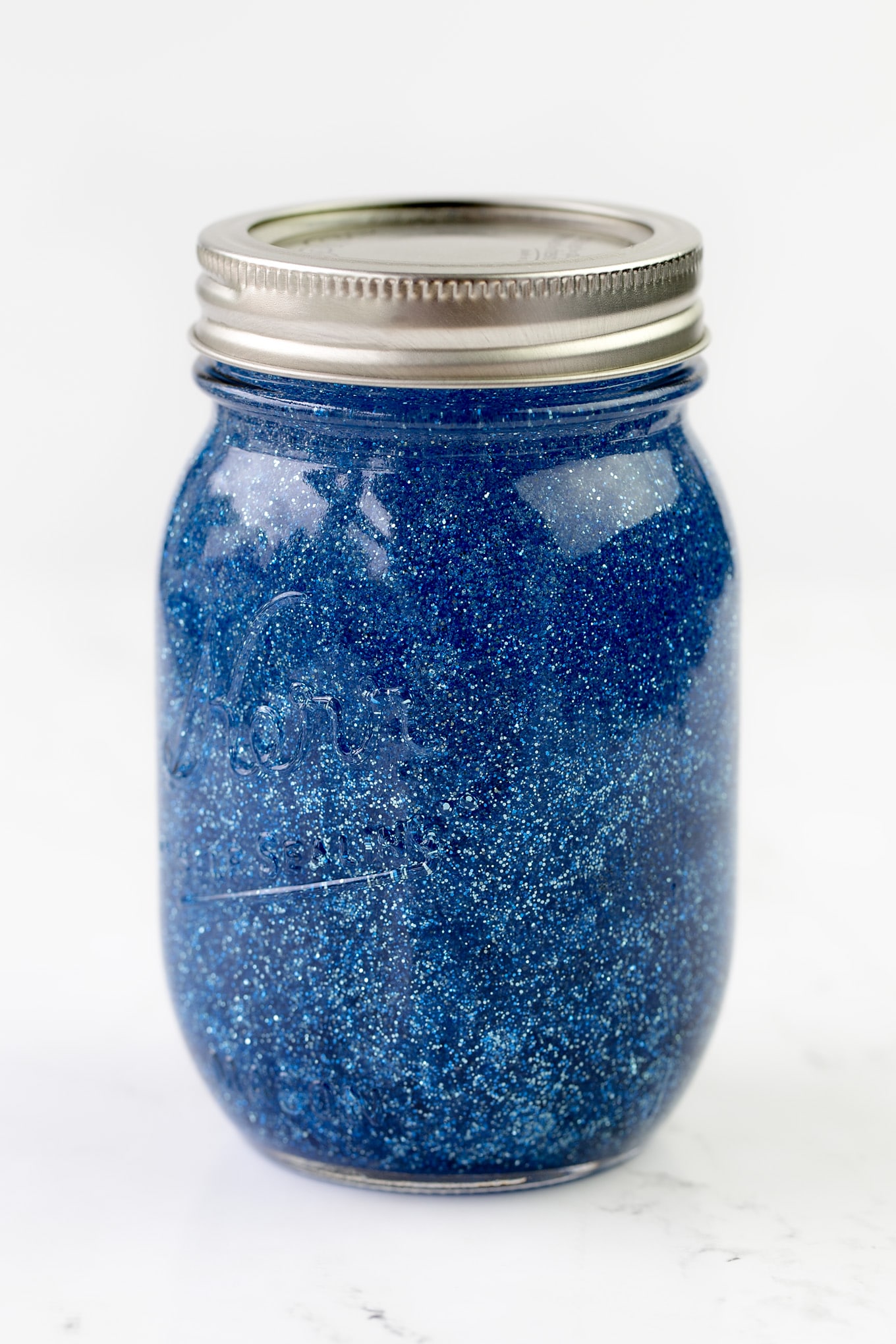 How to Make a Glitter Jar
It's easy and fun to make glitter jars with kids. It's a lovely project for kids who are learning about emotions and mindfulness.
At home, I've found glitter jars to be a very useful tool for managing behavior and time. After evening baths, I shake the jars and tell the boys, "Pajamas on and teeth brushed by the time the glitter settles." They race against the glitter, and usually win! This is good for our family because the high-pitched ring of traditional kitchen timers upsets and startles my boys.
As an Elementary School Counselor, I use glitter jars with small groups of kids who are learning about feelings, anger management, or mindfulness. I keep one in the center of my table so when emotional kids visit my office, they can flip the jar and relax on a nearby cushion.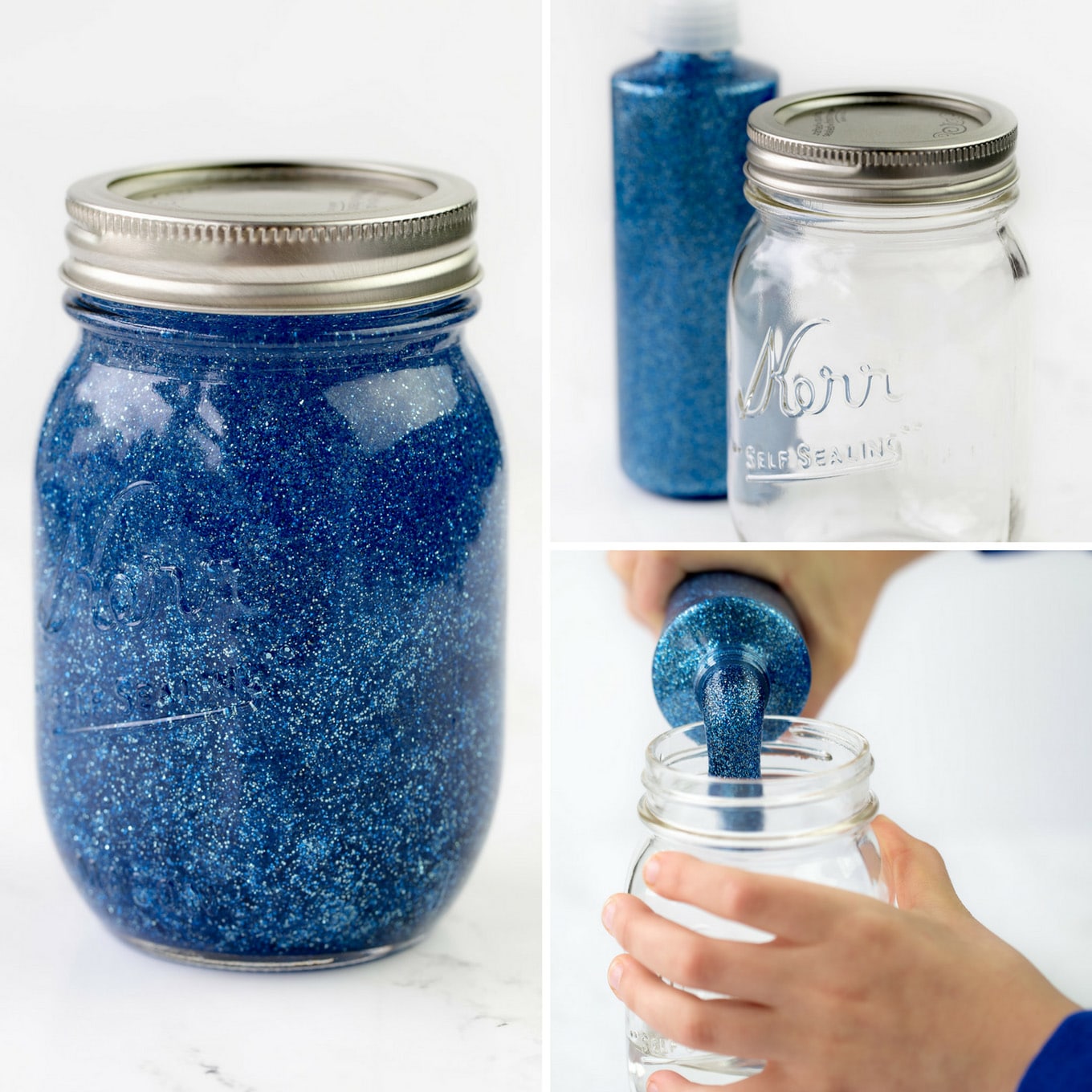 To Make This Calm Down Jar You Will Need
Directions for Glitter Jar
1. After gathering supplies, pour 1/2 cup of distilled water into the jar. We used 16-ounce glass mason jars, but plastic water bottles would work as well (and should be used for kids who are prone to throwing objects when they are angry).
Why distilled water? Unlike tap water, distilled water contains no contaminants or minerals and will help keep your glitter jars mold-free.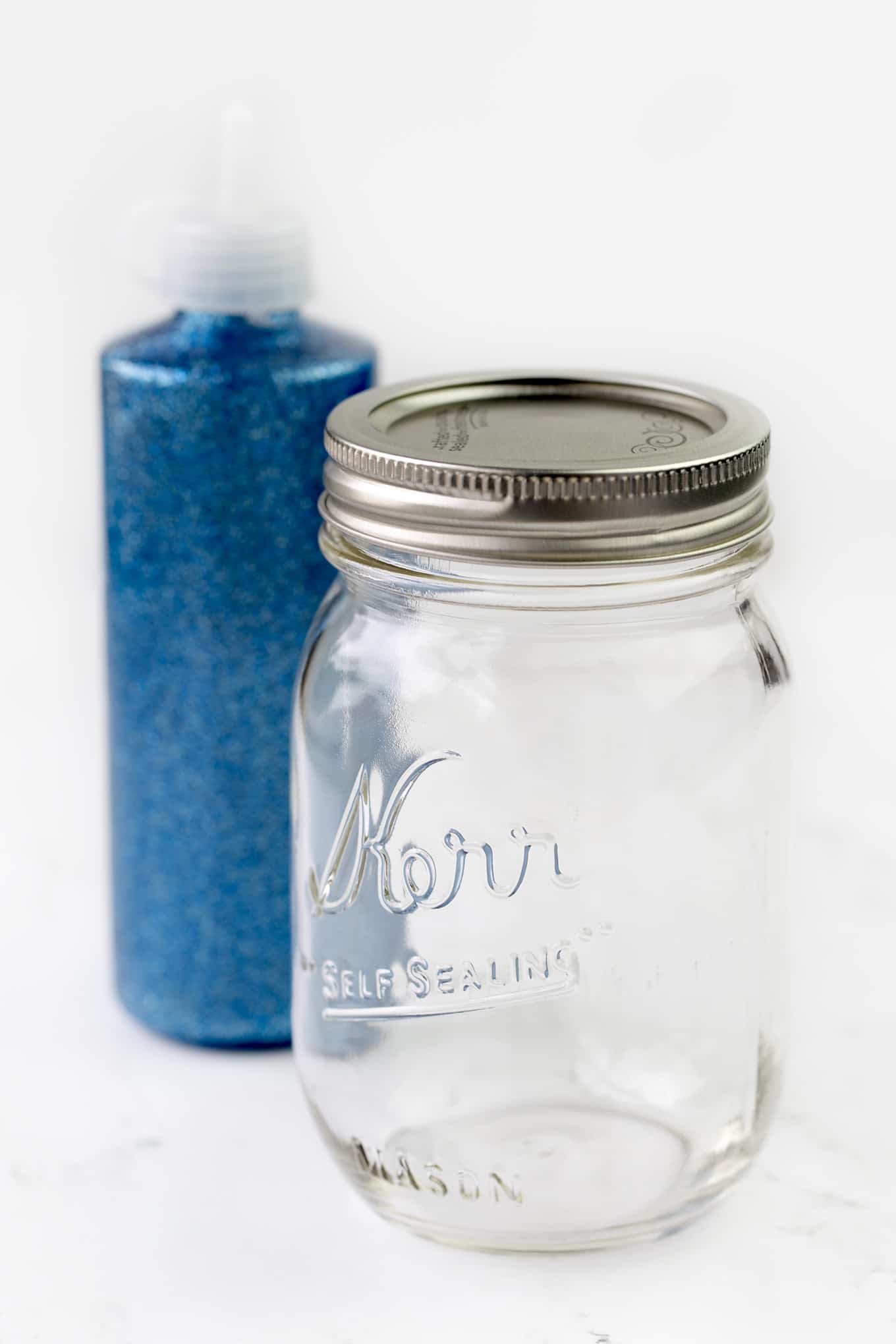 2. Invite kids to pour 1/2 cup of glitter glue or clear glue into the jar. If you use our exact ingredients and recipe, it will take about 2 minutes for the glitter to settle in the jar.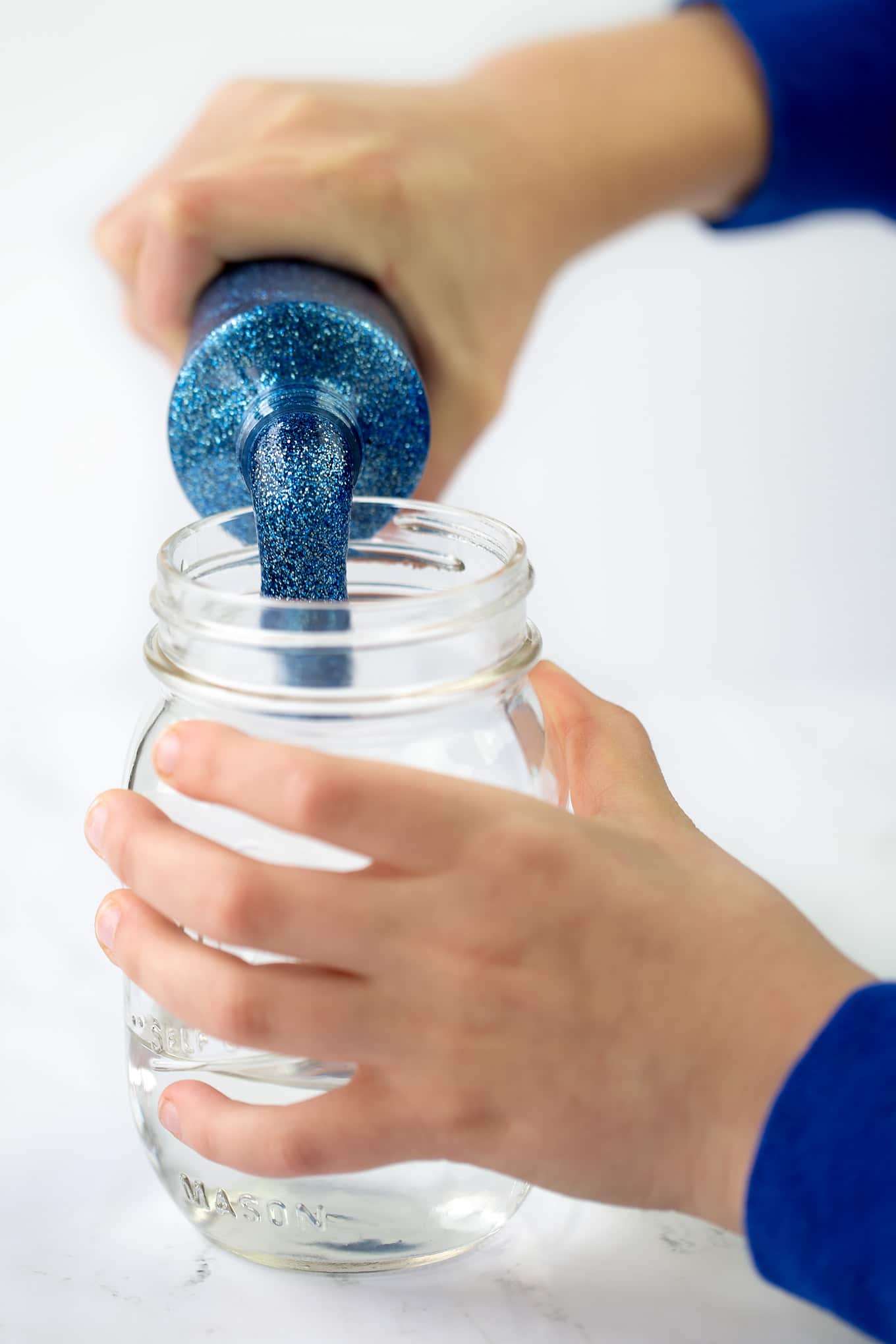 3. If you are choosing to do so, add 1–2 teaspoons of extra glitter to the jar.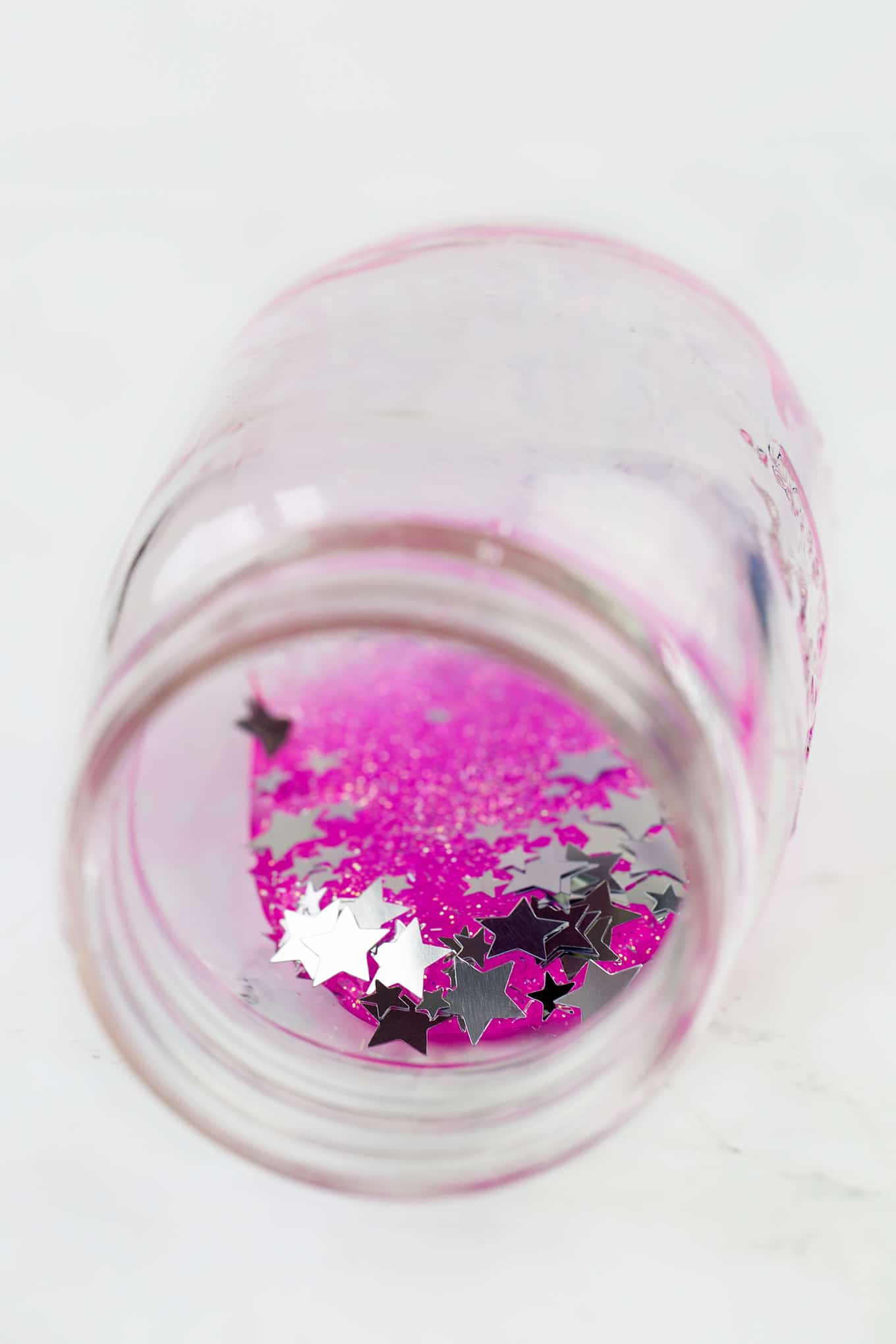 4. Fill up the remainder of the jar with distilled water.
5. Use a hot glue gun to squeeze a ring of glue around the lid of the jar. Press the lid onto the jar and secure with the metal ring.
6. Shake the jar well to distribute the glitter. (It took many shakes and a rest overnight to convince the glue to disperse completely.)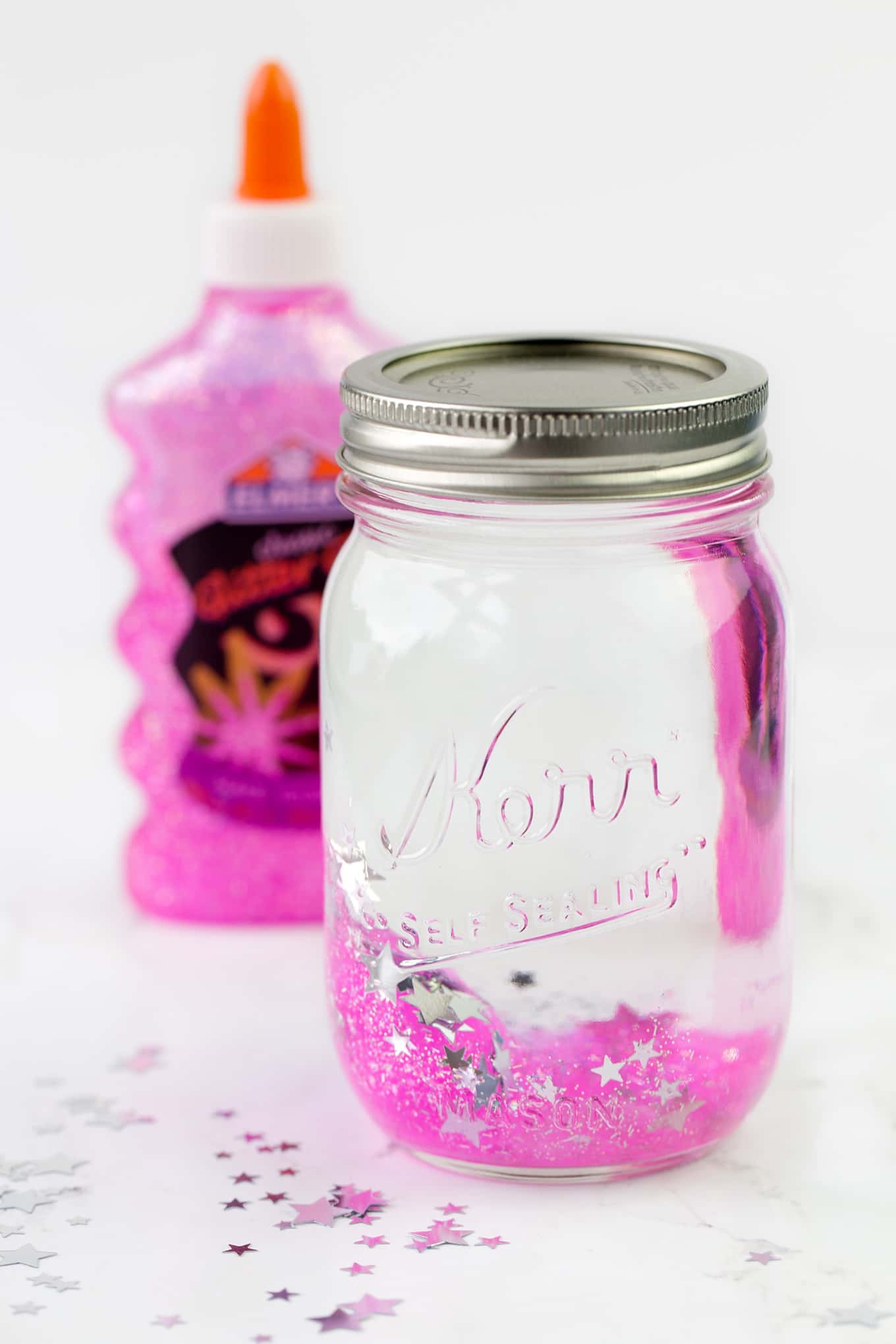 Using a Glitter Jar
Before you give a glitter jar to a child, you must teach them how to use it. Invite your child to sit down comfortably. Encourage them to shift their gaze to the swirling glitter, breathing deeply in and out as they watch it sink to the bottom of the jar.
Next, invite them to notice the calm feeling moving through their body as they breathe. Perhaps their feet feel heavy and warm, and that feeling is moving up towards their shoulders. As they breathe, ask them to notice how their heartbeat feels steady and their body temperature feels just right. All the while breathing in…and out. As the glitter settles and the water clears, so will their thoughts, feelings, and body.
As the boy in my office watched the glitter, his breathing deepened and became more rhythmic. His expression softened as his fists relaxed. After 10 minutes, he asked for permission to get a drink.
He was ready to talk.
Video Tutorial: Calm Down Glitter Jar
Watch the video below to be guided through each step of this craft. You can view more easy kids craft tutorials on our Facebook Page, Teachers Pay Teachers Page, or right here on our website.
Save this Post
Don't forget to save this post on Pinterest for later! Be sure you are following along with Fireflies and Mud Pies here.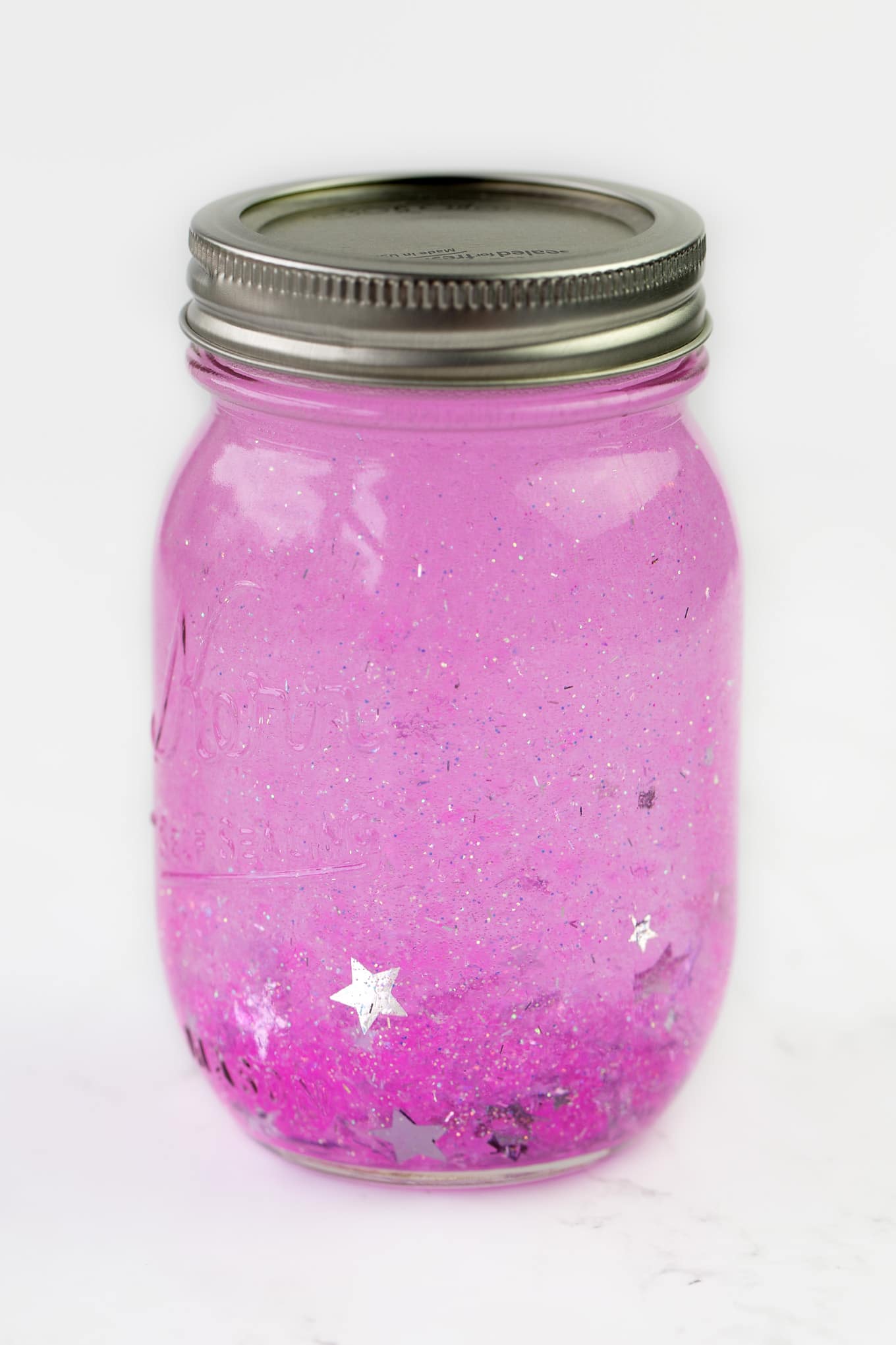 You May Also Enjoy
Click the images below to view more posts related to parenting and social-emotional learning.