Yesterday I received the first official "I'm booored!" of summer. Frankly, I'm surprised it took 2 weeks! Of course it was from my oldest, who is almost always bored when no one is attending to him. I gave him my old digital camera and sent him outside to photograph the elusive albino squirrel known to breakfast on cracked corn at our bird feeder every morning. My other child can happily entertain himself for hours on end. In fact, not once in his 4-years of life has he ever proclaimed boredom. Isn't it funny how two children, raised almost identically, can be entirely different?
Well, my aspiring photographer apparently needs to work on his stealth and shutter speed. He came back 5-minutes later and admitted defeat, "The white squirrel is in the tree hiding. I didn't get a picture of it." Then he informed me, once again, that he was bored. I told him that boredom was an "opportunity for adventure" and that I was sure he would think of something to do and if not, he was welcome to fold laundry. He asked for my iPhone. I passed him a basket of socks.
The morning went on and on like this, but eventually, my kiddo found markers and a coloring book and settled quietly in the family room. Later that afternoon while the boys were eating lunch, I slipped out the side door to arrange an art activity on the lawn.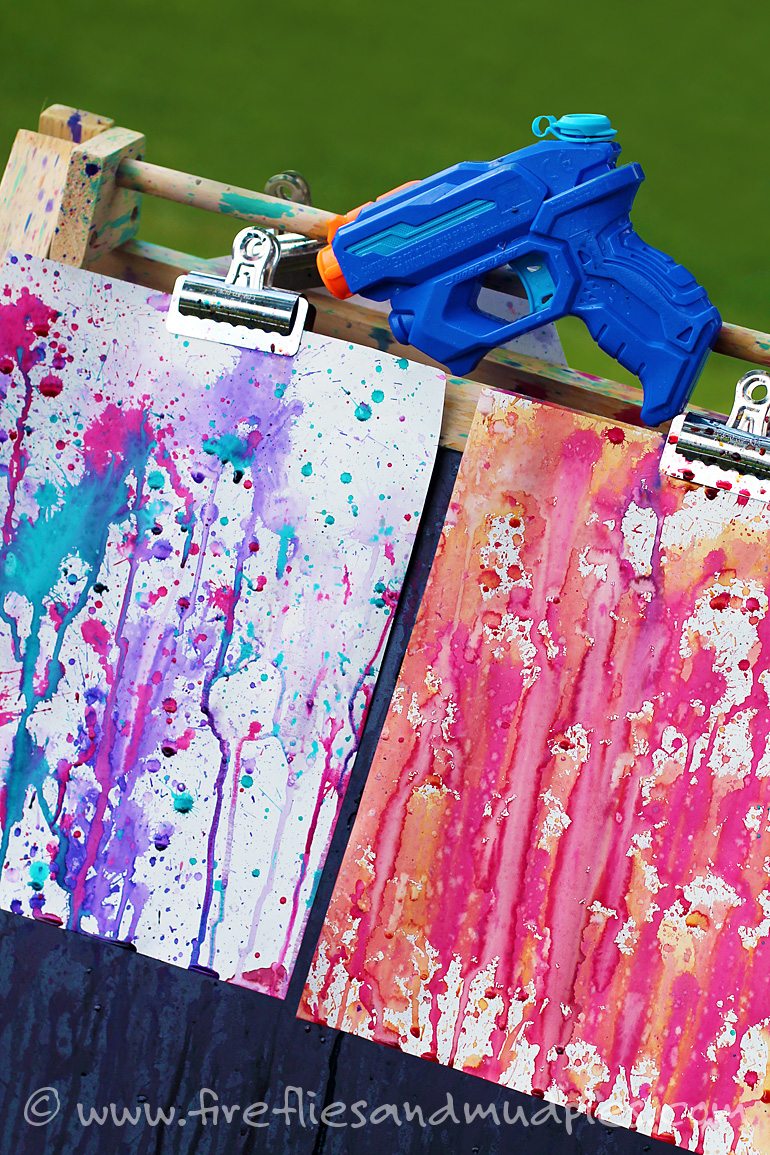 This post contains affiliate links. All opinions are my own.
Squirt Gun Painting
Squirt Gun Painting is a classic summer art activity for kids. For our artwork, we used Nerf Super Soaker Alphafire Blasters. I like to avoid the super cheap multi-pack squirt guns typically found in dollar stores because they seem to end up breaking within hours. The Alphafires are still inexpensive, but have the quality one can expect from Nerf products.
UPDATE 4/17/16: The price of the Alphafire Blasters recently doubled on Amazon. Try this 3-Pack of Nerf Super Soaker Zipfires instead.
I arranged our easel in the yard and clipped two sheets of watercolor paper to each side. I invited the boys to fill their squirt guns with liquid watercolors and let them go to town! They had a lot of fun, but needed several reminders not to squirt each other!
RELATED: Water Blaster Games for Kids
No Easel?
If you don't own an easel, you can lay the papers in the grass, use a thumbtack to secure the paper to a tree, or make your own out of cardboard.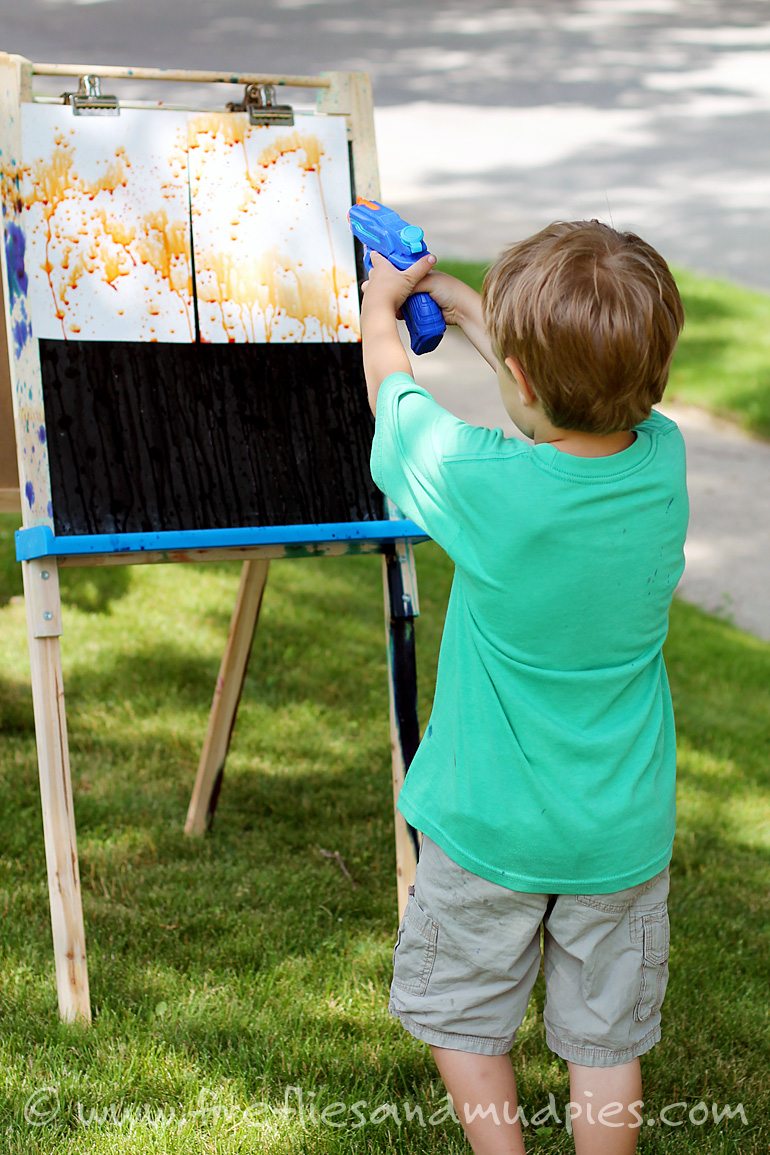 Each painting was bright, unique, and beautiful!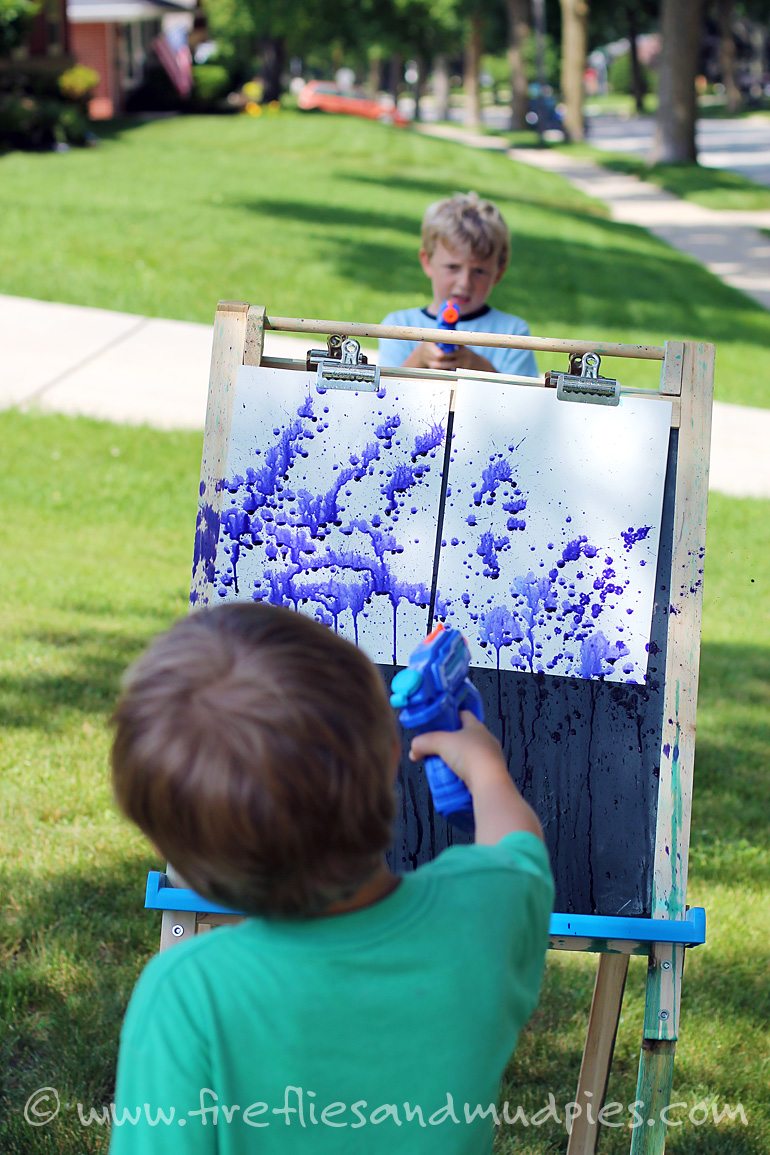 Afterwards, the boys ran through the sprinkler to clean off! What a fun summer afternoon!
More Summer Fun for Kids

Summer vacation is a great time to get outside, crafty, and active with your kiddos! Here are some more creative ideas!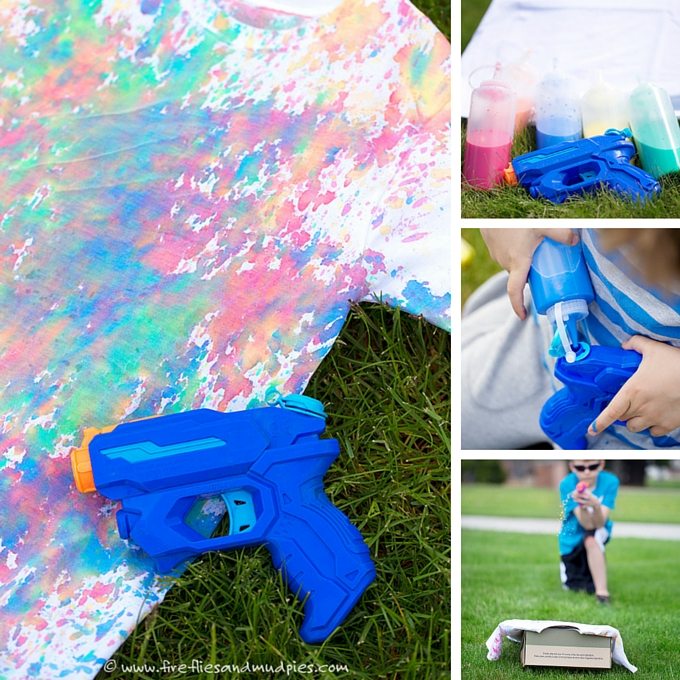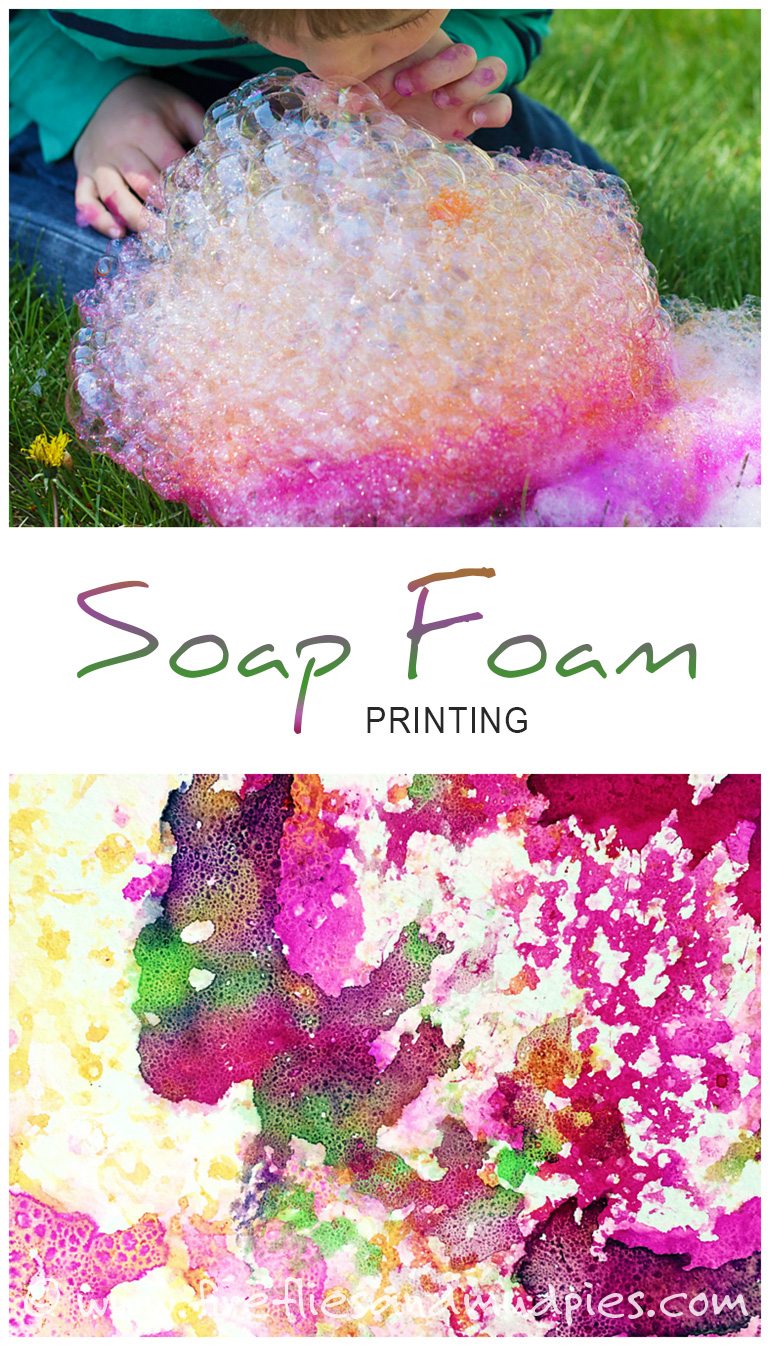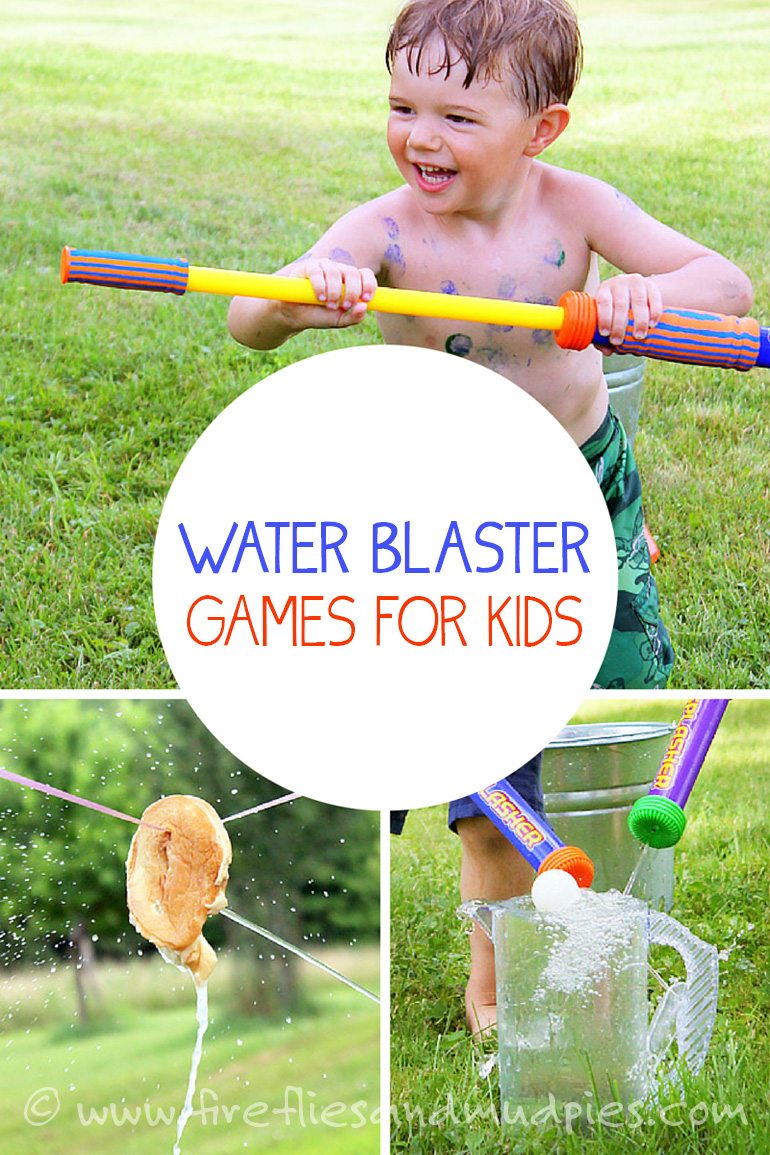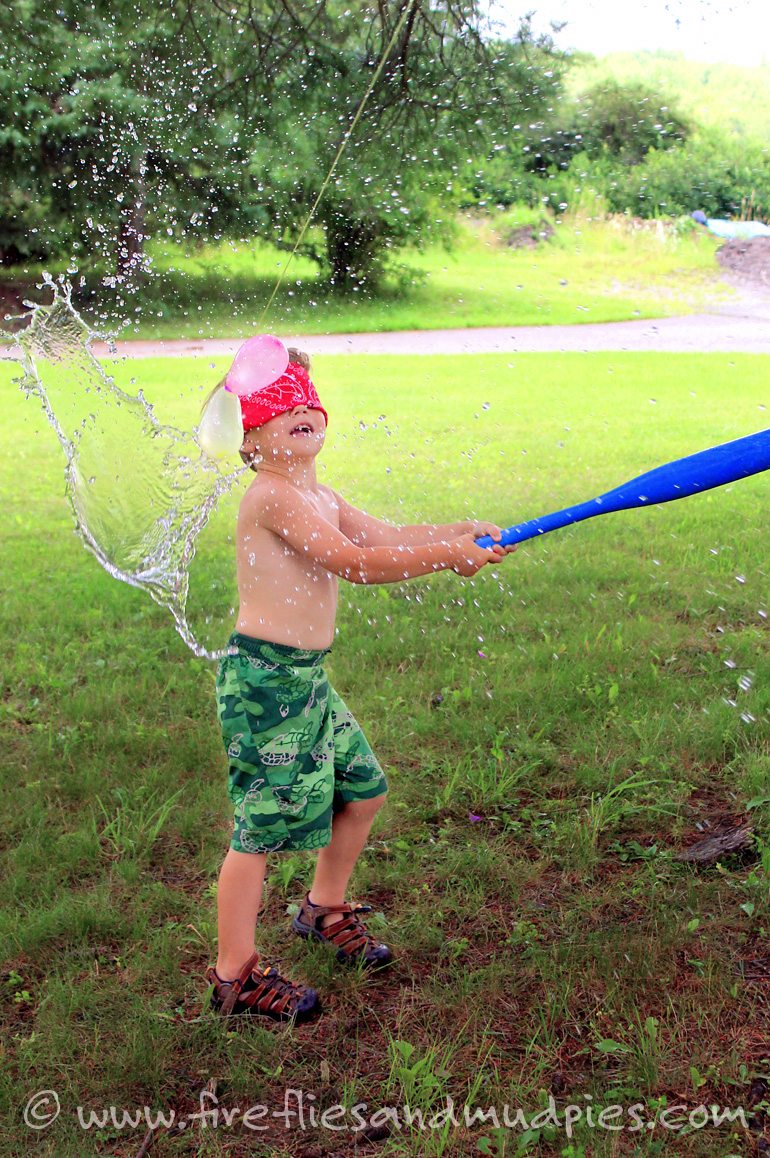 Are you following us on social media?  Find us on:
 Facebook  |  Instagram  |  Pinterest  |  Twitter