When my son turned 7, he asked for a super hero themed birthday party. Shared below is the Super Hero Bingo Game I made for his party, available as a free printable to you!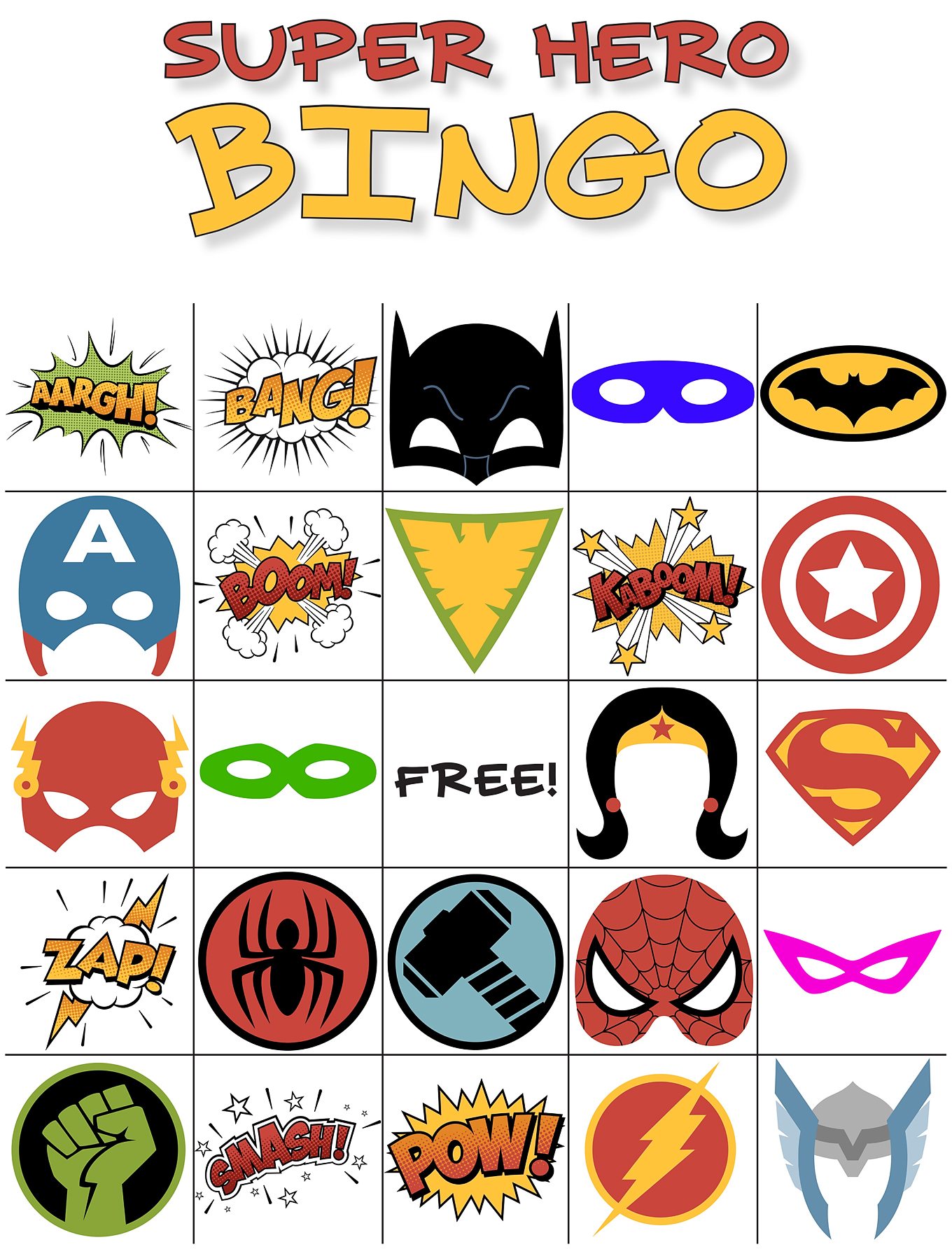 This post contains affiliate links. Opinions are my own. 
Free Printable Super Hero Bingo
I printed the cards on white cardstock, then laminated them at home so they could withstand 8 rowdy children! We used superhero fruit snacks as Bingo markers. The kids enjoyed playing challenge rounds like Four Corners, Black Out, and we even made a C in honor of my son!

MY LATEST VIDEOS
Click the image below to view and download the free printable game.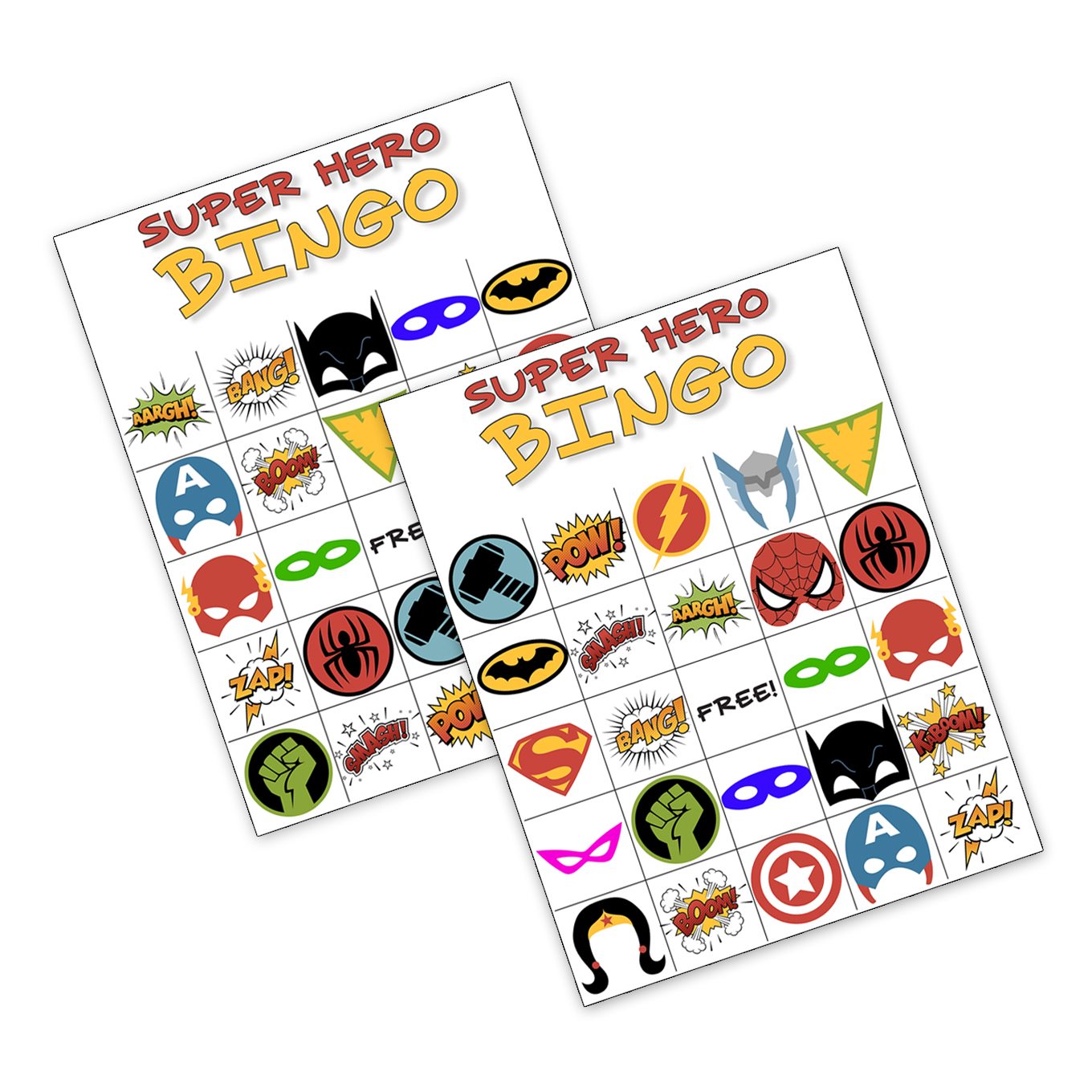 Super Hero Birthday Supplies
Shared below are some of our favorite super hero party supplies and favors!
Cardboard Jumbo Superhero Word Cutouts
Fun Express Superhero Cupcake Liners
Fun Express Superhero Sticker Roll
Color-Your-Own Superhero Masks
Superhero Punch Balls
Superhero Dress Up Costumes
Comic Superhero Party Popcorn Party Boxes
DC Comic Super Hero Dog Tags
Comic Superhero Party Bunting
Comic Superhero Party Paper Plates
Fun Express Superhero Plastic Cups
Superhero Party Birthday Cake Toppers
Superhero Party Boxes
Superhero Birthday Party Confetti
Superhero Ice Cream/Treat Tubs
Superhero Party Cupcake Toppers
Superhero Party Paper Cups
Superhero Decoration Paper Napkins
Superhero Party Cupcake Stand
Superhero Party Plates
Superhero Party Banner
Popcorn Boxes
Superhero Party Kids Loot Bags
Superhero Party Red Paper Straws
Superhero Cake Bunting Topper
Superhero Party Banner Decorations
Superhero Food Flag Toppers
Superhero Party Photo Booth Props
Superhero Party Chevron Paper Straws
Superhero Party Paper Bowls
Superhero Kids Party Invitations
Big Heroes! (DC Super Friends)
Flower Power! (DC Super Friends)
Batman! (DC Super Friends)
Nine Marvel Super Hero Tales (Marvel)
The Amazing Spider-Man (Marvel)
The Mighty Avengers (Marvel)
The Courageous Captain America (Marvel)
The Invincible Iron Man (Marvel)
Super-Pets! (DC Super Friends)
How to Be a Superhero
The Mighty Thor (Marvel: Thor)
The Incredible Hulk (Marvel)
Plastic Superhero Stampers
Superhero Sayings Bracelets
Superhero Party Favors
Super Hero Rubber Duck Duckies
Superhero Masks and Cuffs Kit
Super Heroine Role Play Costume
Super Hero Role Play Costume
Superhero Picture Frame Craft Kit
&
More Fun Printables for Kids
We loved playing Super Hero BINGO at my son's superhero themed birthday party! Shared below are some more printable games and crafts for kids, perfect for school or home.