I know I should be sharing spring crafts, but we just received our first measurable snowfall! It finally feels like winter! We took advantage of our surprise snowfall by sledding, shoveling, and making snowy day tissue paper art!
You may be familiar with our very popular summer art activities, Squirt Gun Painting and Soap Foam Printing. My kids loved making Snowy Day Tissue Paper Art just as much as them! 
This post contains affiliate links. Opinions are my own. 
Snowy Day Tissue Paper Art
This art project is incredibly vibrant, fun, and simple enough for home or school.
Materials:
Directions:
1. Cut the tissue paper into small squares.
2. Spread the tissue paper squares onto the watercolor paper. Secure each one with a small dot of water.
RELATED: Soap Foam Printing
3. Take the paper outside. If it is snowing, allow the snow to gently fall on top of the paper. If it is not actively snowing, sprinkle a small amount of snow on top of the paper.
4. Bring the snow-covered paper indoors and place the paper in a tray. As the snow melts, the tissue paper will "bleed" into the watercolor paper, leaving behind a vibrant wash of color!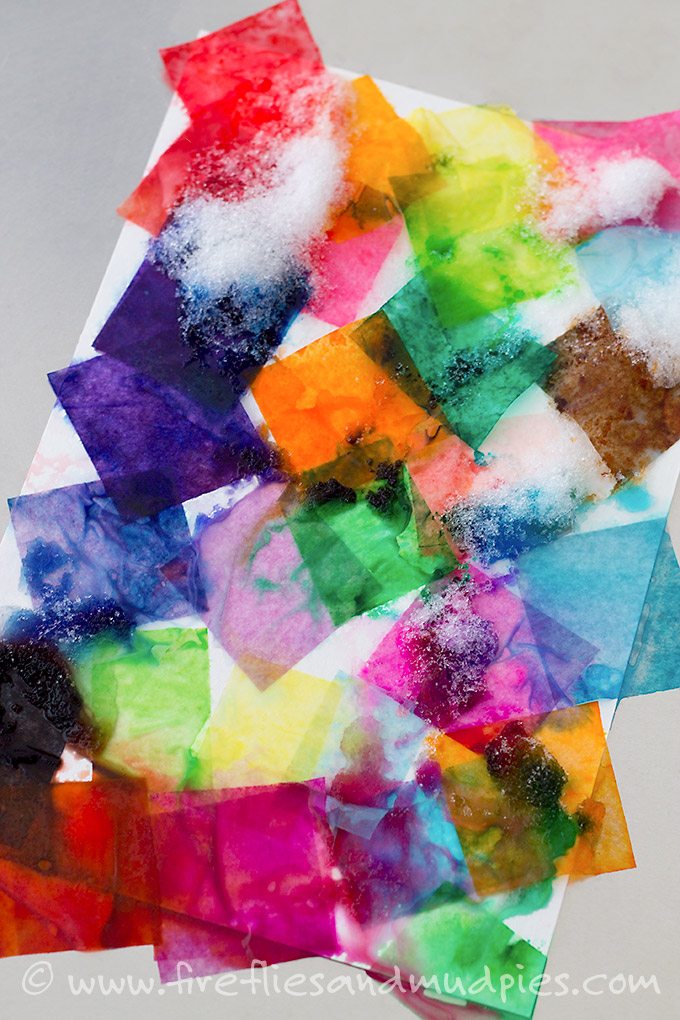 5. Allow the tissue paper and watercolor paper to dry completely.
6. When both papers are dry, gently brush away the tissue paper.
Enjoy your gorgeous painting!