In this easy step-by-step tutorial, learn how to make a fun popsicle stick leprechaun craft for St. Paddy's Day. This bushy-bearded leprechaun is the perfect St. Patrick's Day craft for kids of all ages!
Inspired by our popsicle stick nutcracker ornament, this leprechaun craft also uses faux fur, miniature popsicle sticks, and craft embellishments like stickers, wiggly eyes, ribbon, and pom poms.
Want to make your own? Follow along with our short video tutorial shared below.
Related: Popsicle Stick Leprechaun Hat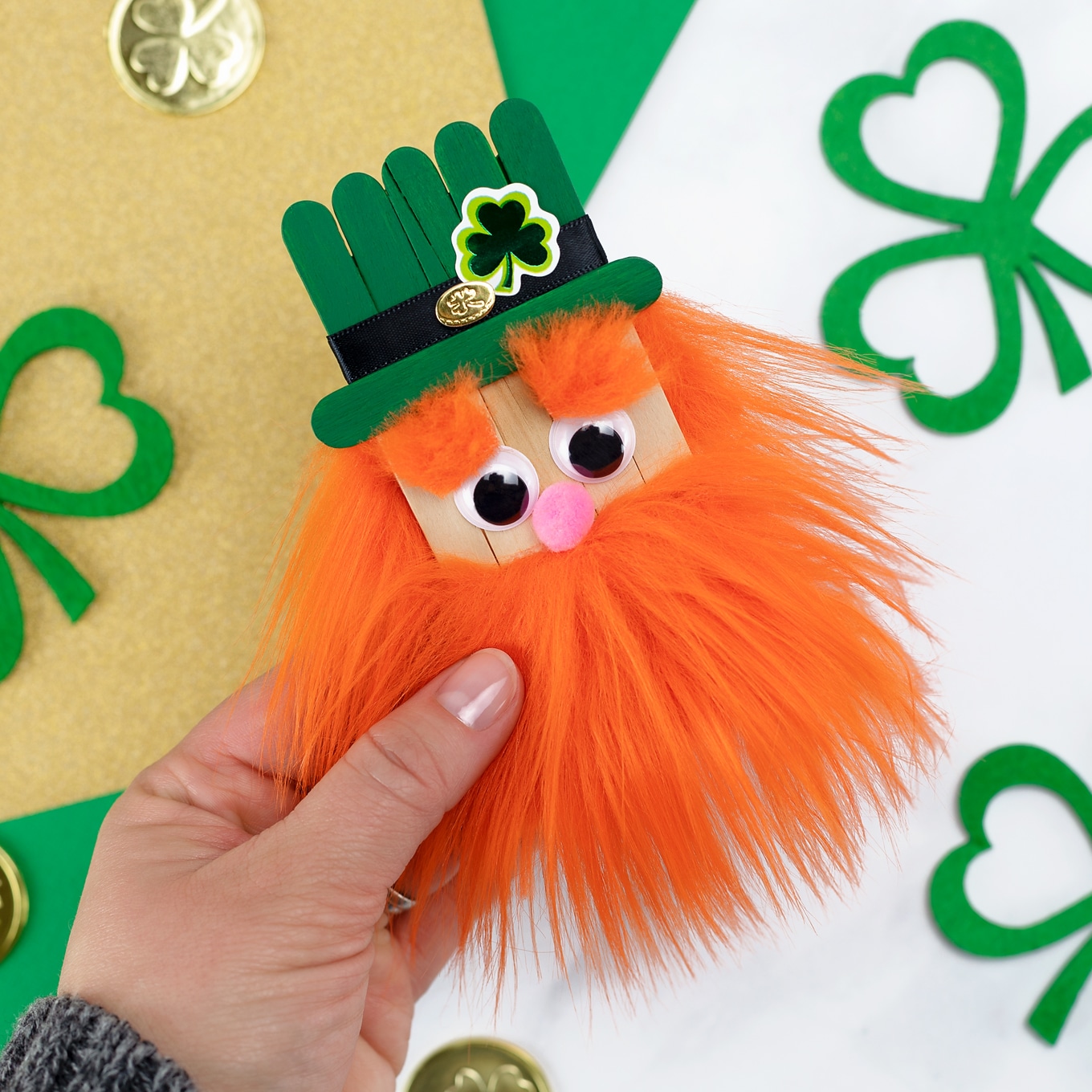 Popsicle Stick Leprechaun Craft
When my son was in kindergarten, he had a terrible fear of leprechauns! Apparently, his teacher shared with her class that on the night before St. Patrick's Day, "the leprechauns" would visit the classroom (and possibly the children's homes) to cause mischief and play pranks.
So when St. Patrick's Day Eve rolled around, my little one wouldn't go to sleep! "The leprechauns," he cried. "The leprechauns are going to creep around my room and move things!" The only way I could get him to calm down was to tell him that stories about leprechauns were just that: stories.
After that night, I read him St. Patrick's Day books to introduce him to more silly leprechaun stories and teach him about the purpose of St. Patrick's Day. We also started to create more St. Patrick's Day crafts, like our tissue paper shamrock craft and our melted bead rainbow suncatcher.
Now instead of fearing St. Patrick's Day, he celebrates it with books, music, parades, delicious food, and crafts…like the cute popsicle stick leprechaun pictured below.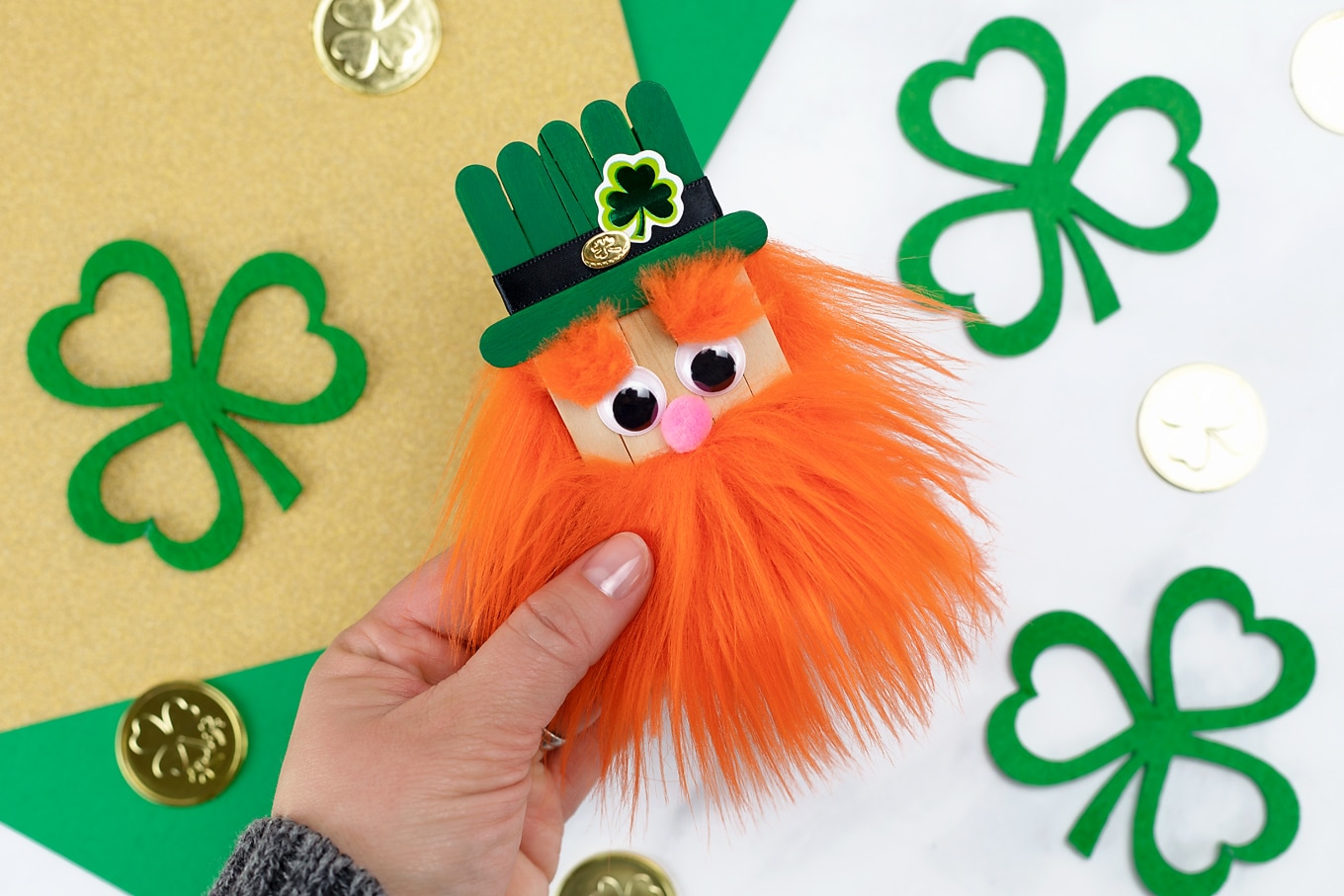 Craft Supplies Needed for Popsicle Stick Leprechaun Craft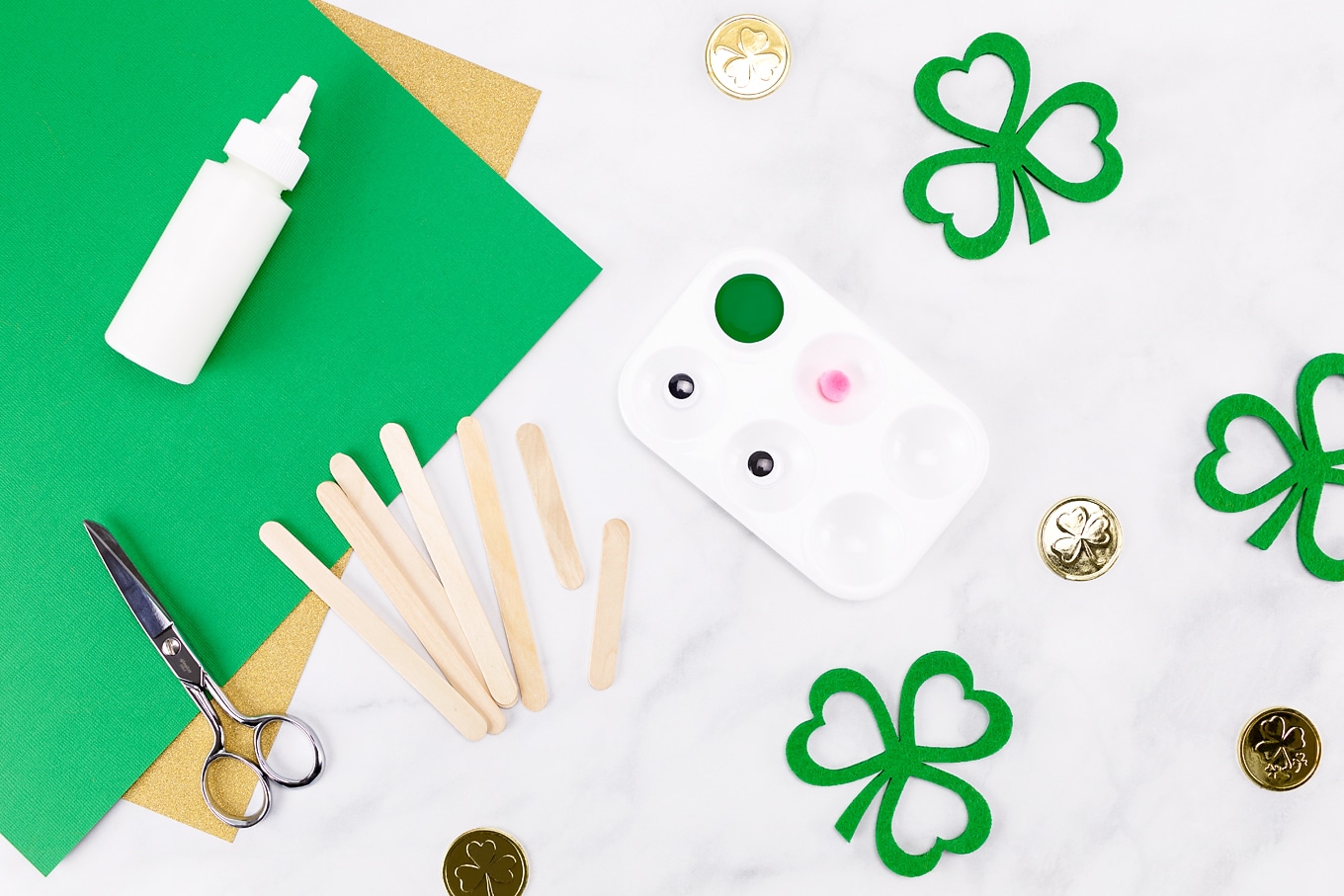 How to Make a Popsicle Stick Leprechaun Craft
It's really easy to make a popsicle stick leprechaun! Our simple directions include tips and tricks, as well as suggestions for modifying this activity for preschoolers, elementary school-aged kids, and adults.
Step 1: Glue the Popsicle Sticks
Arrange 5 standard-sized popsicle sticks in a straight line, then glue one mini popsicle stick over them to create the leprechaun's hat. Small children may find this task difficult, so it may be helpful to have blue painters tape on hand to help keep their popsicle sticks secure while gluing.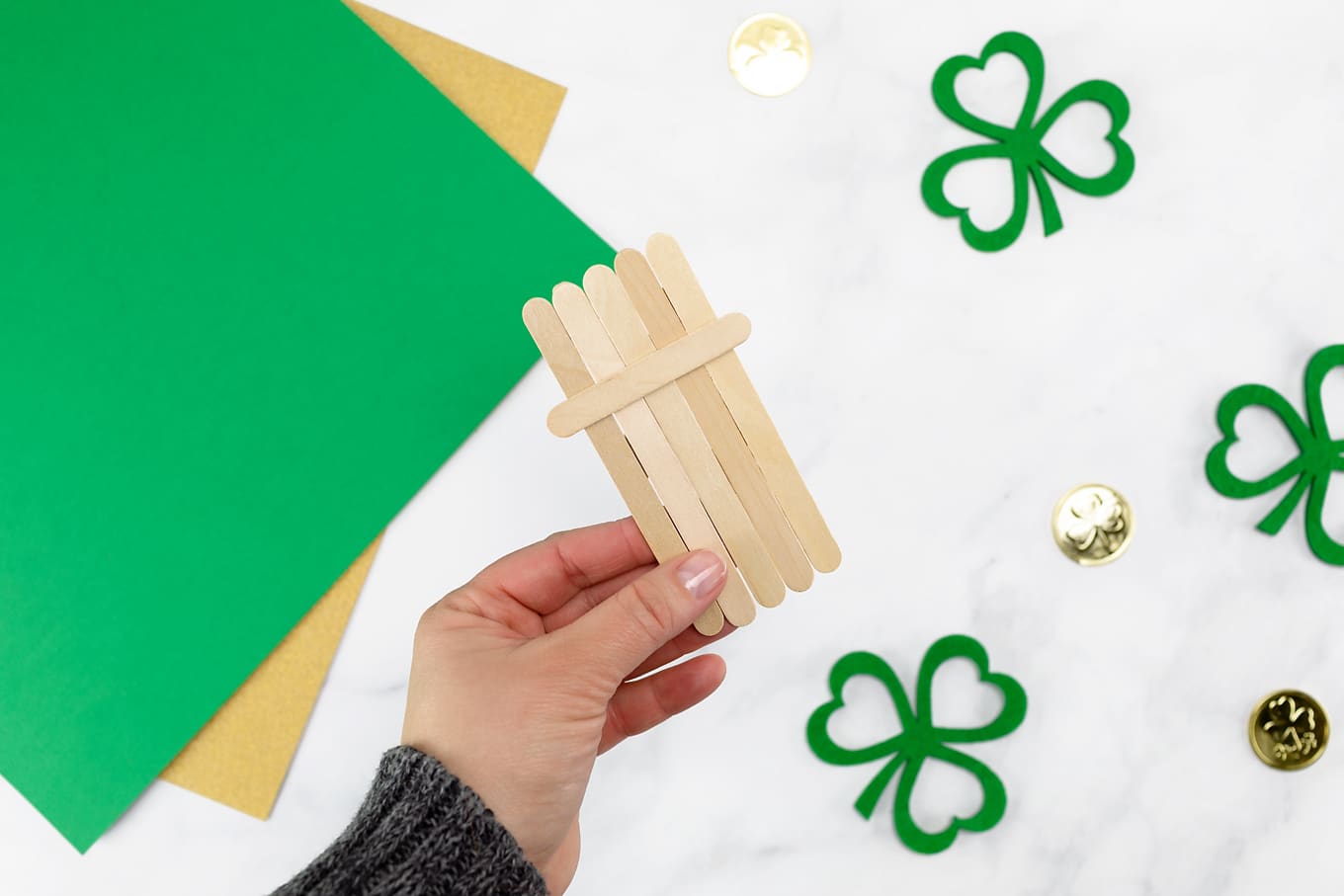 Flip the popsicle sticks over and glue 2 mini craft sticks to the back for support. Now the base of the popsicle stick leprechaun is complete.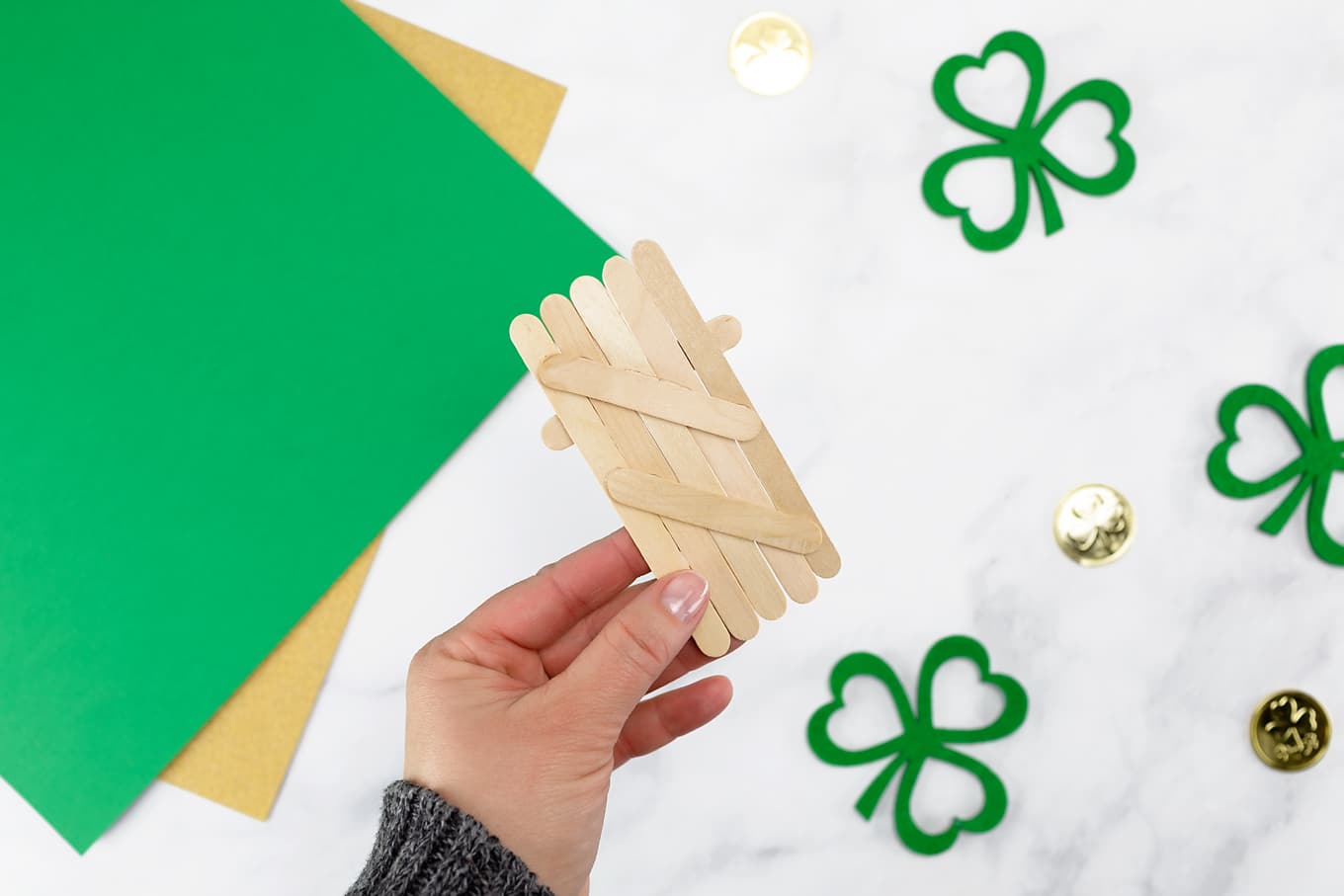 Step 2: Paint the Hat
Use green acrylic paint and a paintbrush to paint the leprechaun's hat. Allow the paint to dry completely before moving onto the next step.
Tip: As a craft blogger, I've tried a lot of acrylic paint brands. Delta Creative paints have never failed me! They are my absolute favorite paint for popsicle stick crafts.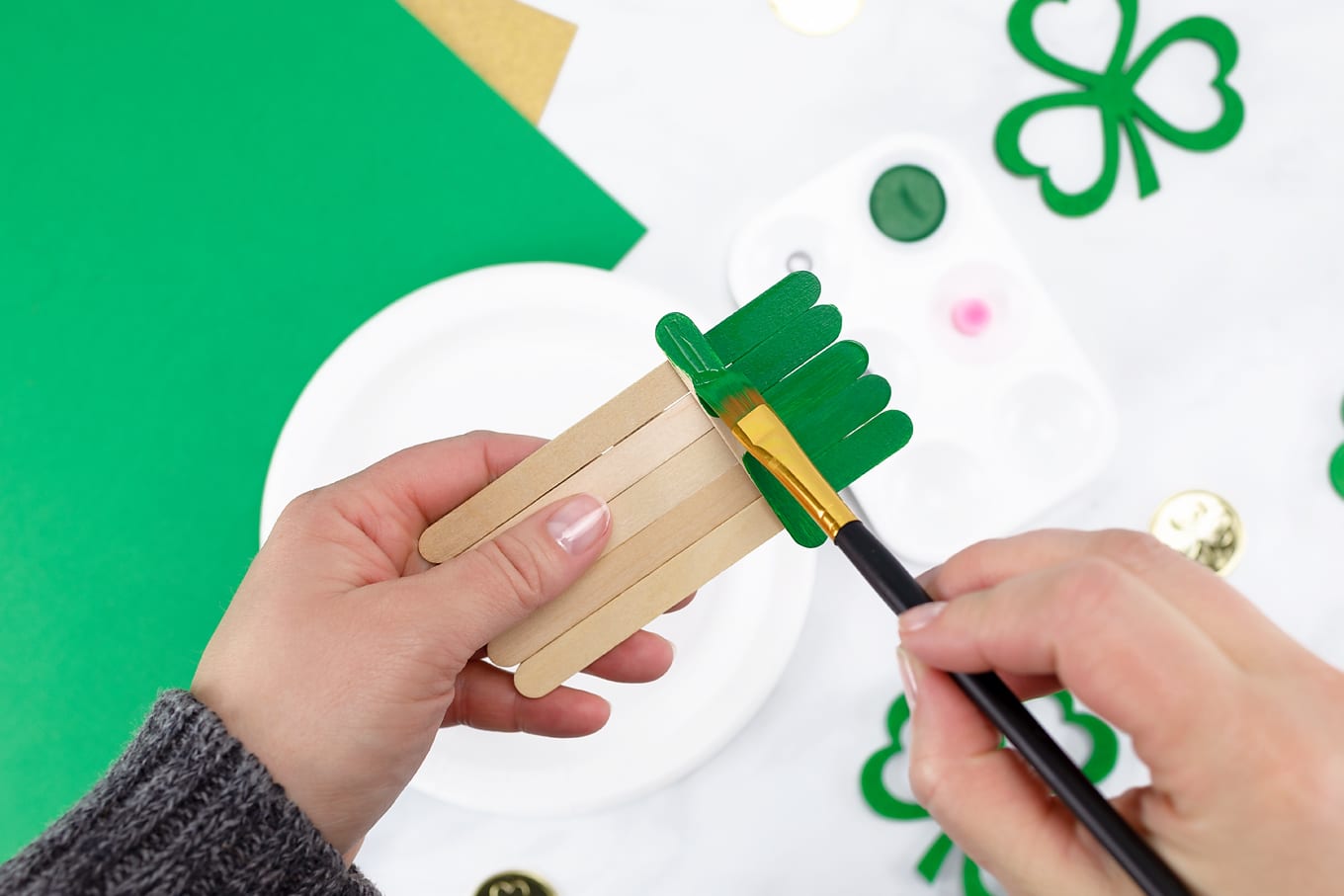 Step 3: Decorate the Leprechaun's Hat and Face
Use black ribbon and stickers to decorate the leprechaun's hat. Originally, I planned to use foam shamrocks like this, but I couldn't find any in stores (and didn't have enough time to order online). I settled for simple shamrock stickers and used the gold coins from this scrapbook sticker set for the hat's buckle.
Tip: If you are making this craft with a large group of kids or adults and want to cut costs, you could make your own gold coins with a gold Sharpie marker and white paper. Alternatively, you could use a single hole punch and gold foil stickers.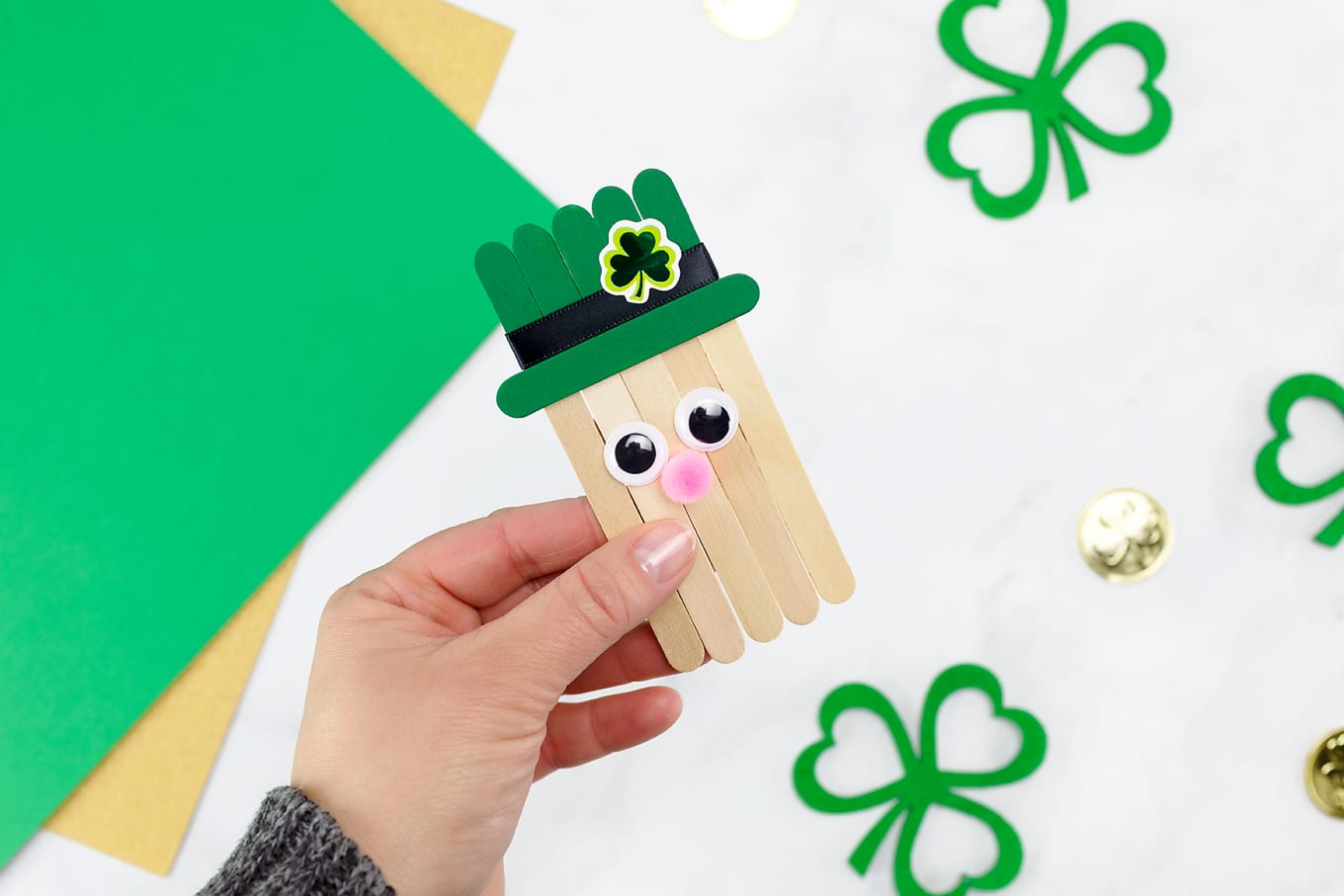 When the hat is finished, glue 2 medium-sized wiggly eyes and a pink pom pom nose to the leprechaun's face.
Step 4: Glue the Leprechaun's Beard, Hair, and Eyebrows
Secure the orange faux fur to the popsicle sticks with a low-temperature hot glue gun. First glue the front of the craft, then wrap the fabric around the sides and glue it to the back of the craft. I found it helpful to gently fold the fabric before pressing it into the glue. That way, the scratchy cut end doesn't show.
Next, cut two small strips of fur. Fluff one strip to the left and the other strip to the right, then glue the strips to the back of the leprechaun's hat.
Last, glue two small strips of fabric above the leprechaun's eyes to give him fluffy, expressive eyebrows.
Tip: No orange faux fur? Try using orange pom poms or felt.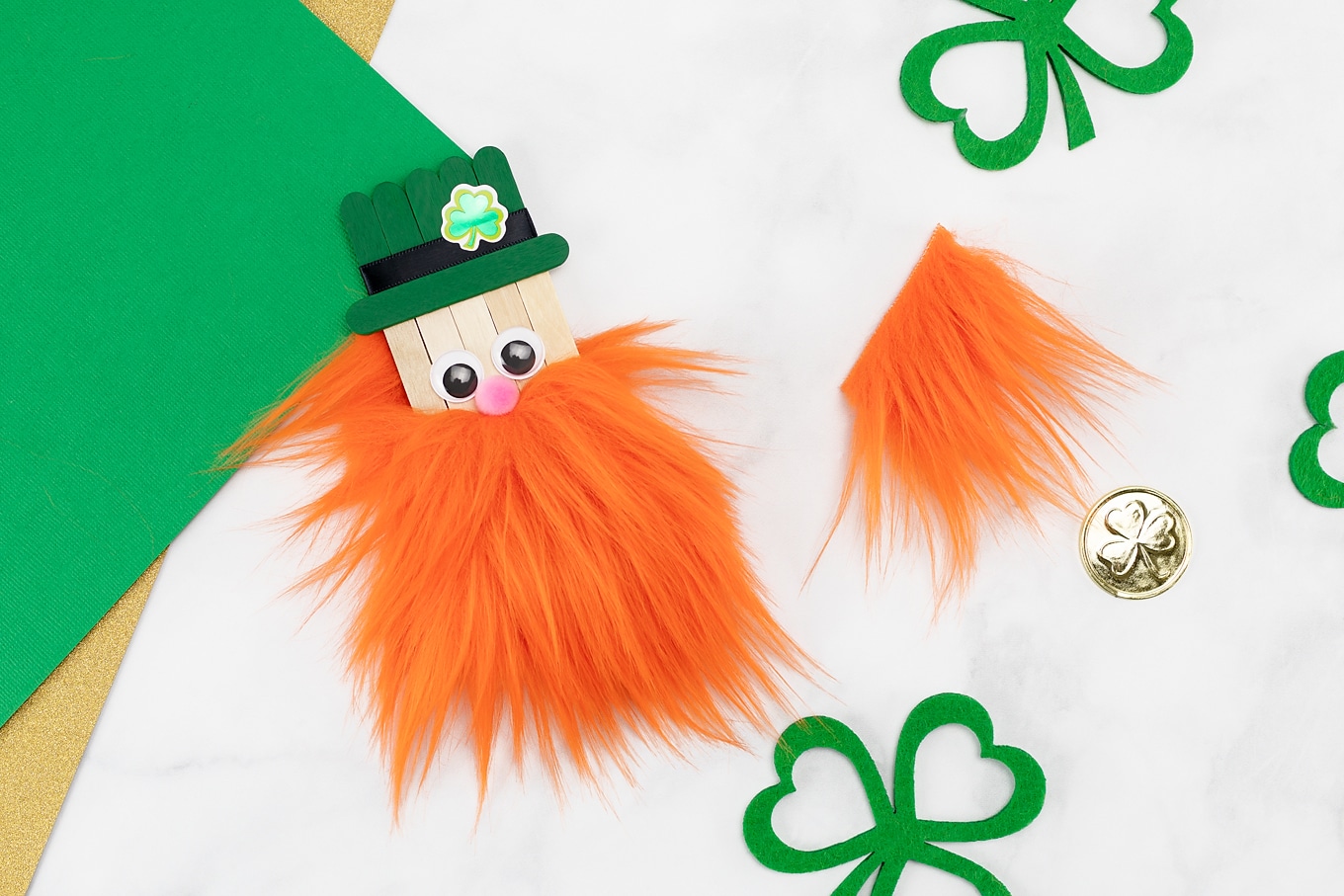 Step 5: Glue a Loop of Ribbon to the Back
If desired, glue a loop of St. Patrick's Day themed ribbon to the back of the leprechaun. This step is optional but is a very nice finishing touch. It makes the popsicle stick leprechaun easy to hang as a decoration or ornament. (So keep this craft in mind for Christmas if you have friends who love St. Patrick's Day, leprechauns, or Ireland!)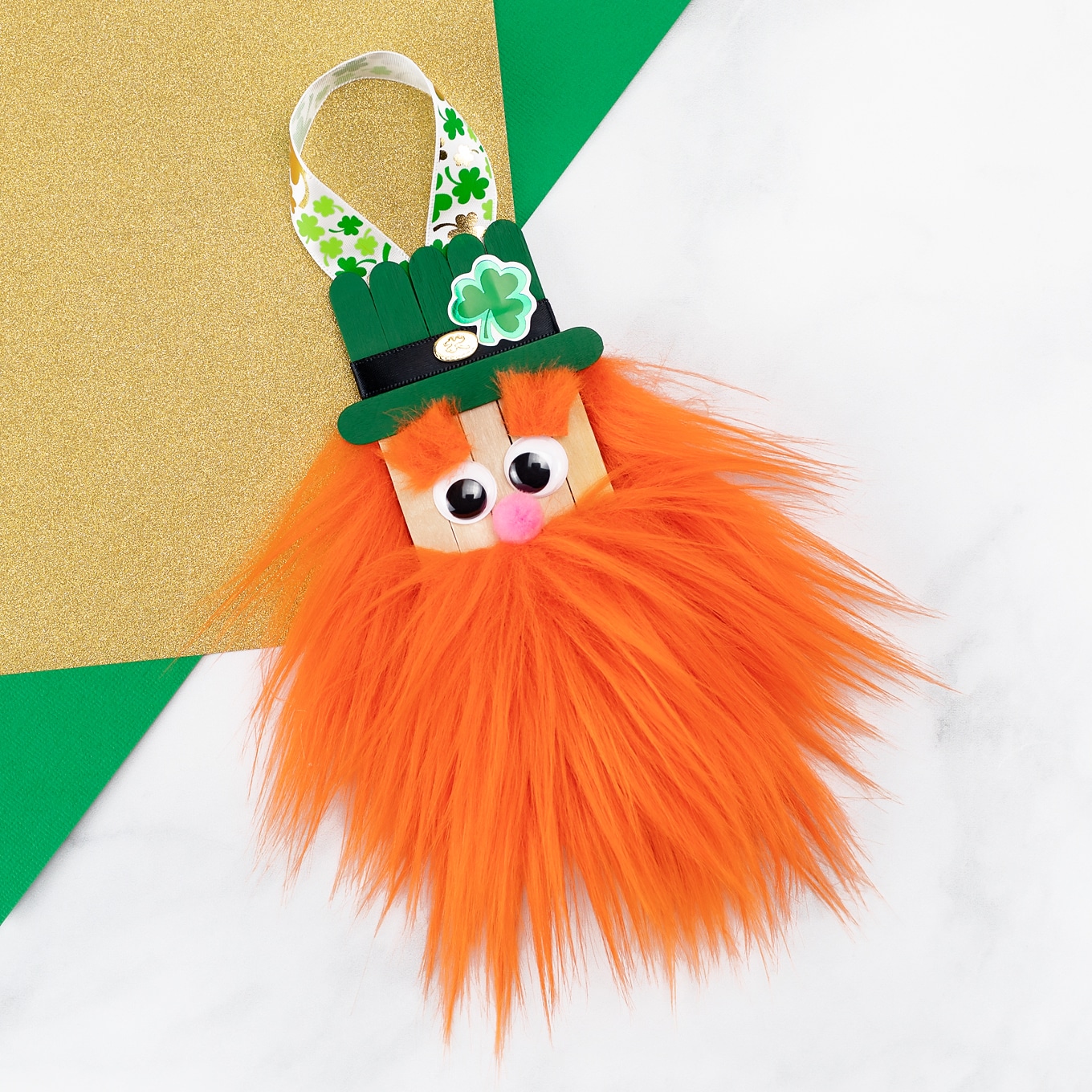 Video Tutorial: Craft Stick Leprechaun Craft
Watch the video below to be guided through each step of this craft. You can view more easy kids craft tutorials on our Facebook Page, Teachers Pay Teachers Page, or right here on our website.
Save This Craft
Don't forget to save this craft on Pinterest for later! Be sure you are following along with Fireflies and Mud Pies here.