This Halloween Sensory Bin is an easy and fun themed sensory play idea for preschoolers, kindergartners, and older kids. Make it on your own with inexpensive materials from your local grocery store or neighborhood dollar store. It's perfect for quiet play at home, preschool, and elementary school!
Related: 5 Halloween Games for Kids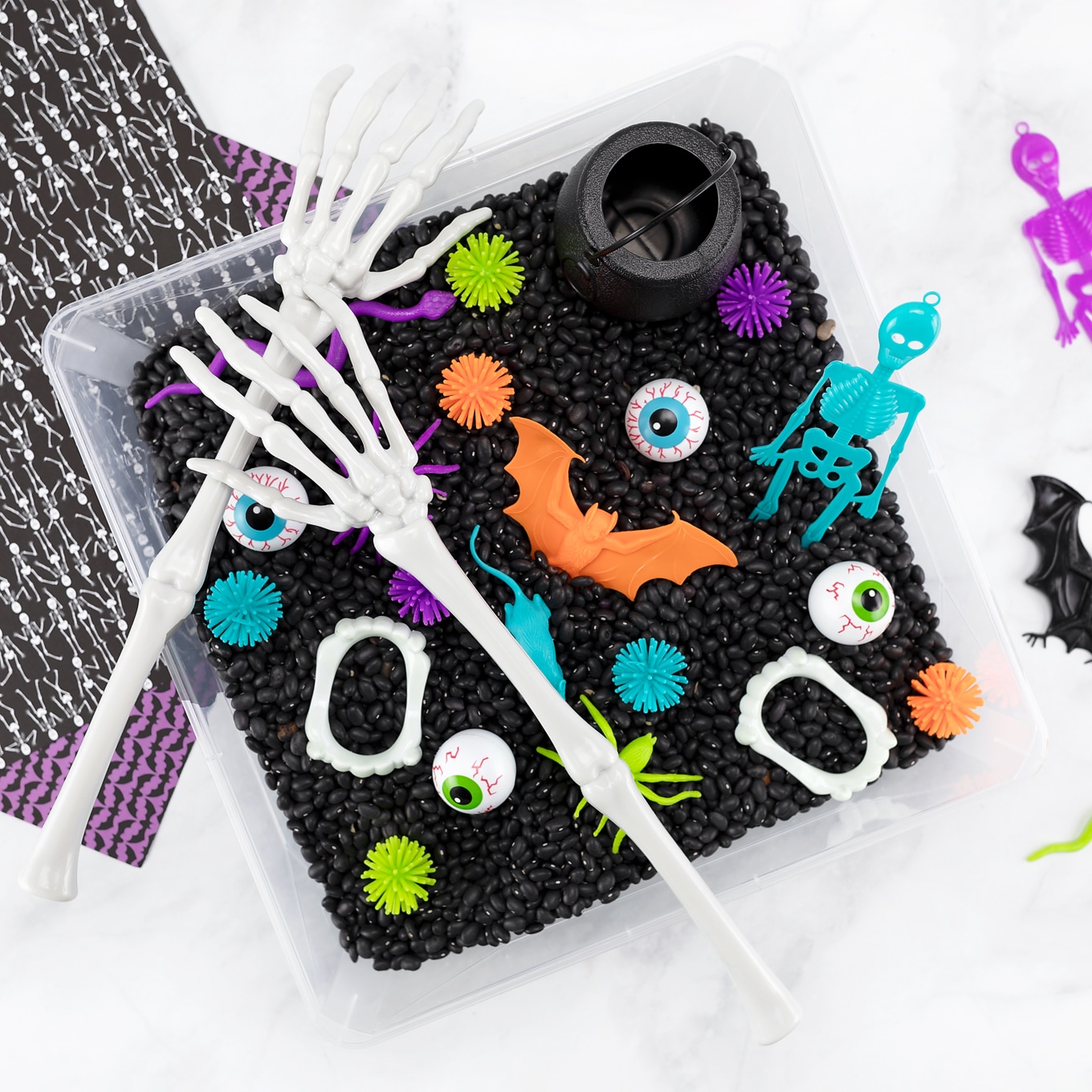 Halloween Sensory Bin
Eleven years. That is how long I've been making sensory bins for my kids! Now in their "tween" years, they still love to run their fingers through them—especially my 9-year-old.
My 9-year-old was born with Global Apraxia and often struggles with fine and gross motor skills. Not only did this Halloween sensory bin bring him a great amount of joy and sensory satisfaction, but it provided simple fine motor practice with tongs and "bone scoopers!"
See also: Halloween Straw Beaded Necklace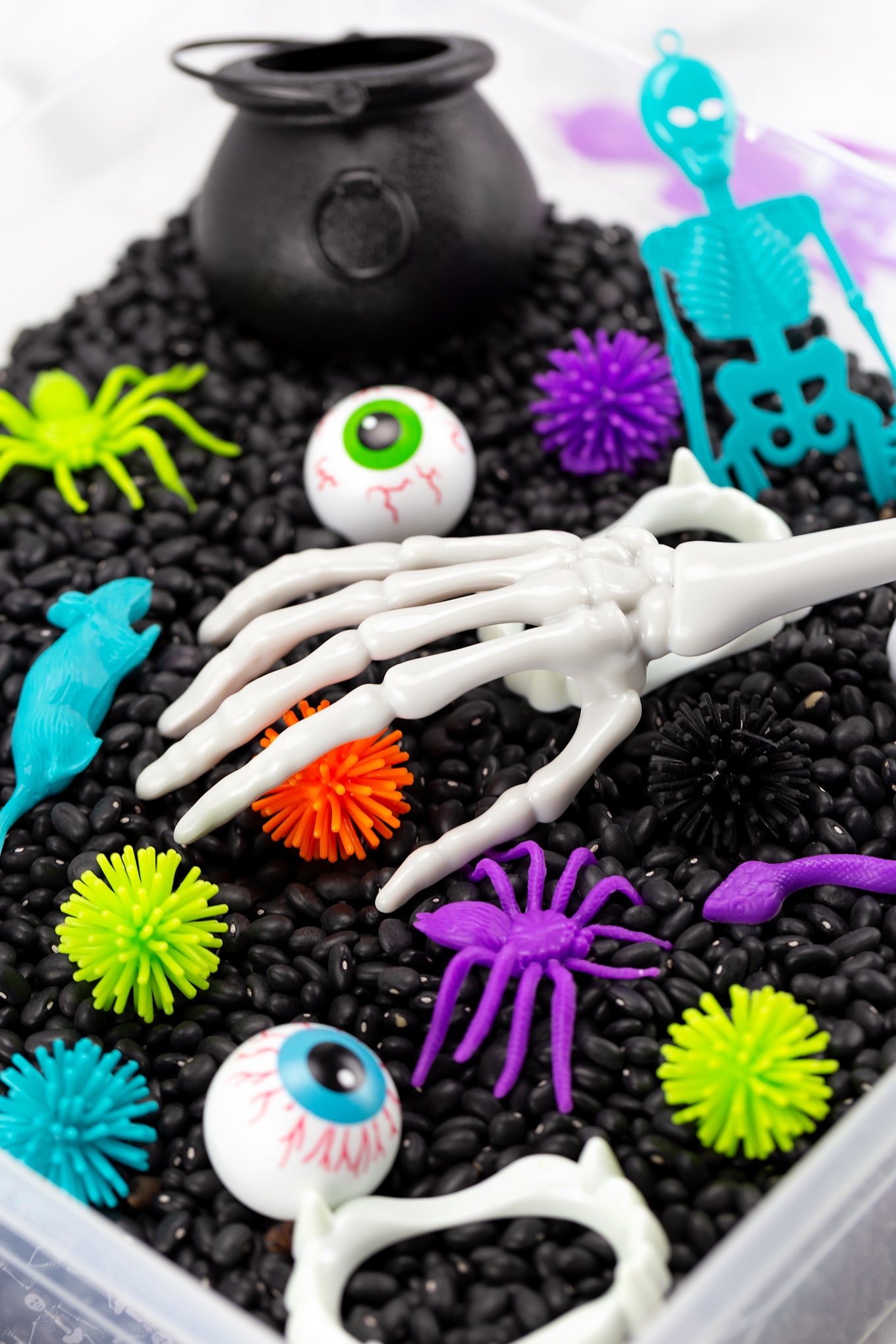 Supplies Needed for Halloween Sensory Bin
Directions for Halloween Sensory Bin
1. Pour black beans into a plastic bin. The amount of black beans you need depends upon the size of your bin. We used about 5 bags of black beans.
The Dollar Tree and Target have small, square containers that are fantastic for tabletop sensory bins!
2. Press Halloween party favors, such as spiders, snakes, squish balls, vampire teeth, rats, skeletons, and bats, into the beans. Add eyeball ping pong balls, tongs, measuring cups, and a mini cauldron.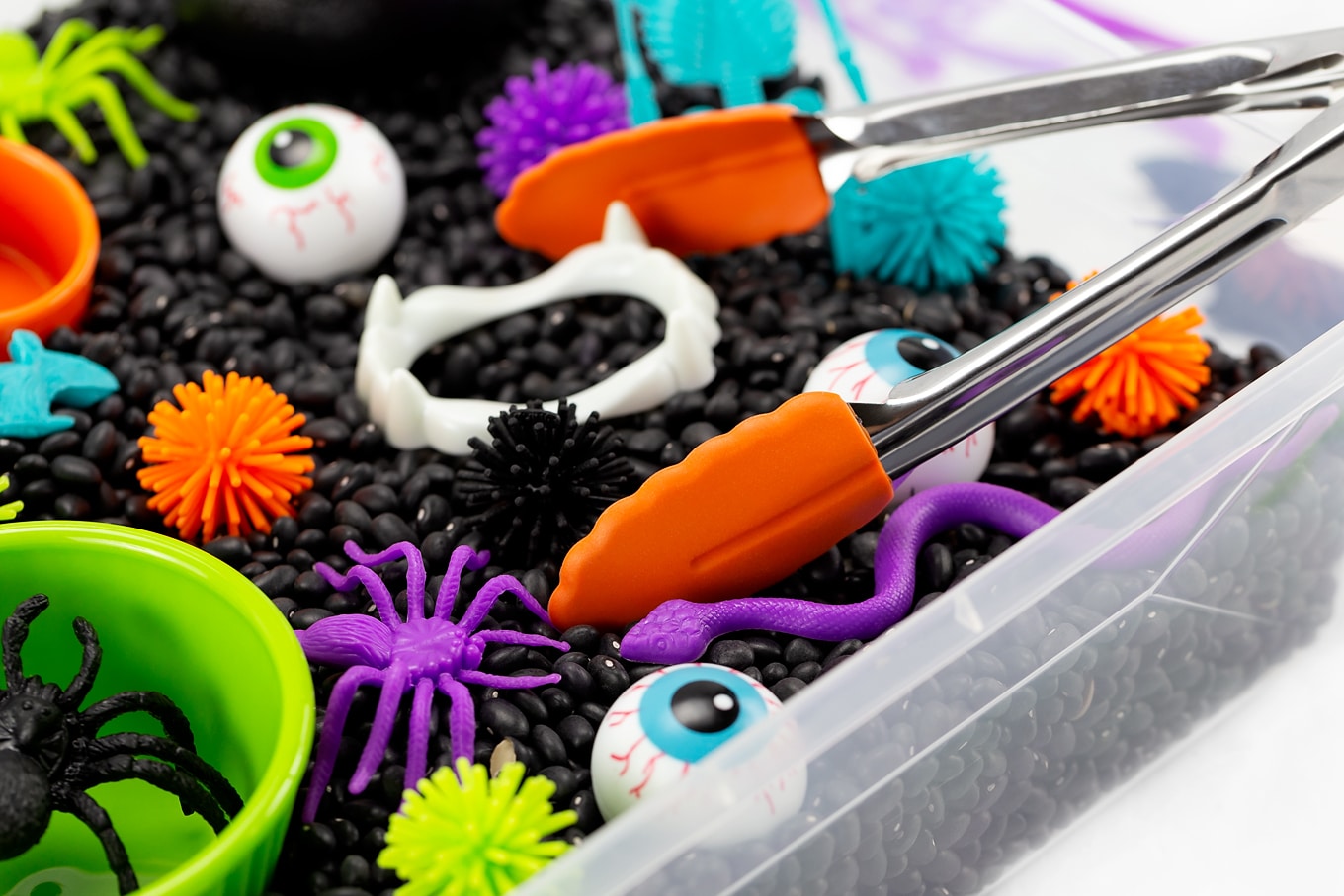 3. Stick skeleton salad tongs into the beans. We found ours at The Dollar Tree!
4. Invite your child to play! Some ideas include:
Pouring beans into the cauldron
Using tongs to pick up squish balls or eyeballs
Burying items in the beans then scooping them up with the skeleton salad tongs
Pair this idea with: Halloween Books for Kids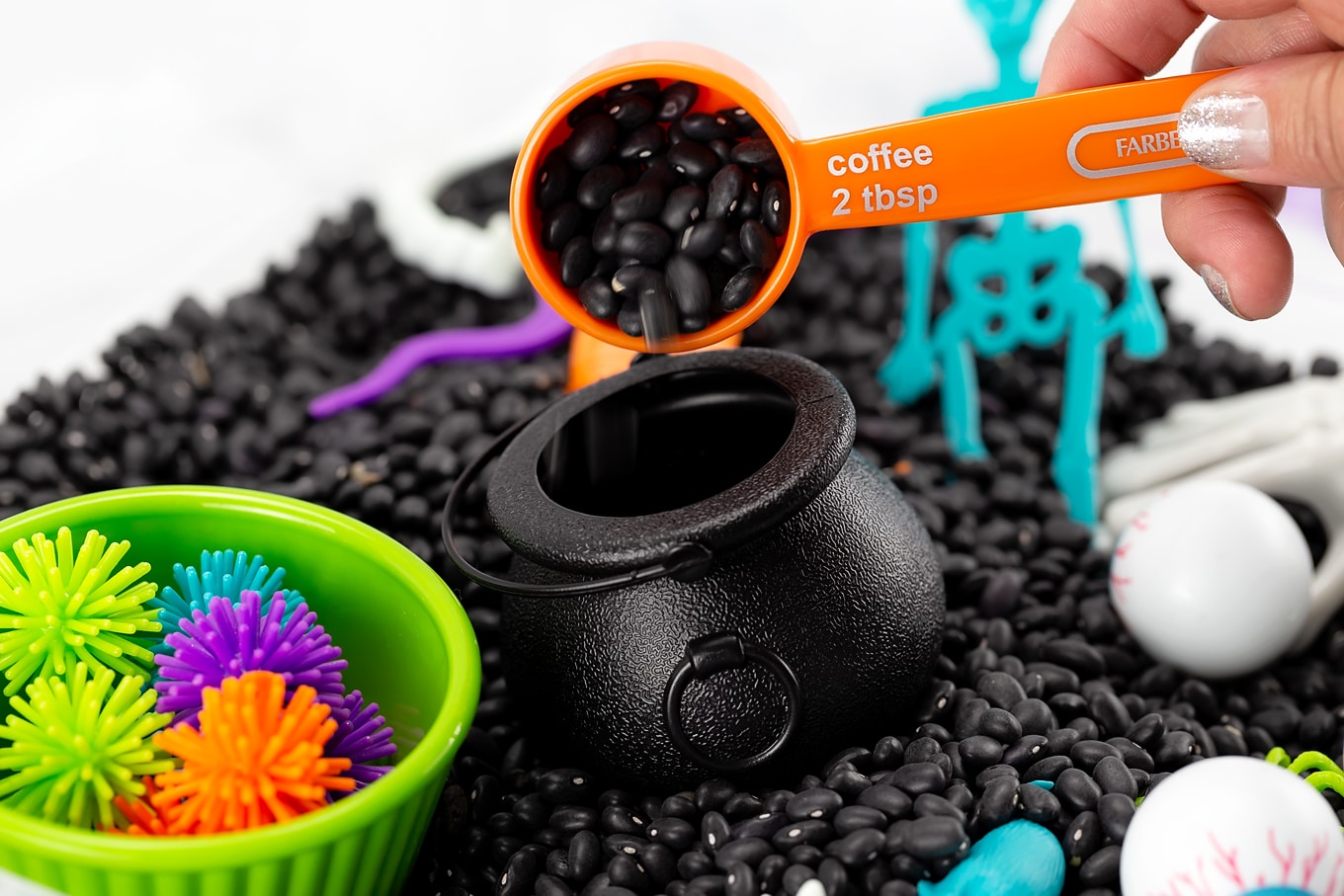 When play is finished, place all of the fun items into the box and pop the lid on! The lid will help keep dust and pet hair out of your sensory materials.
Related: Harvest Sensory Bin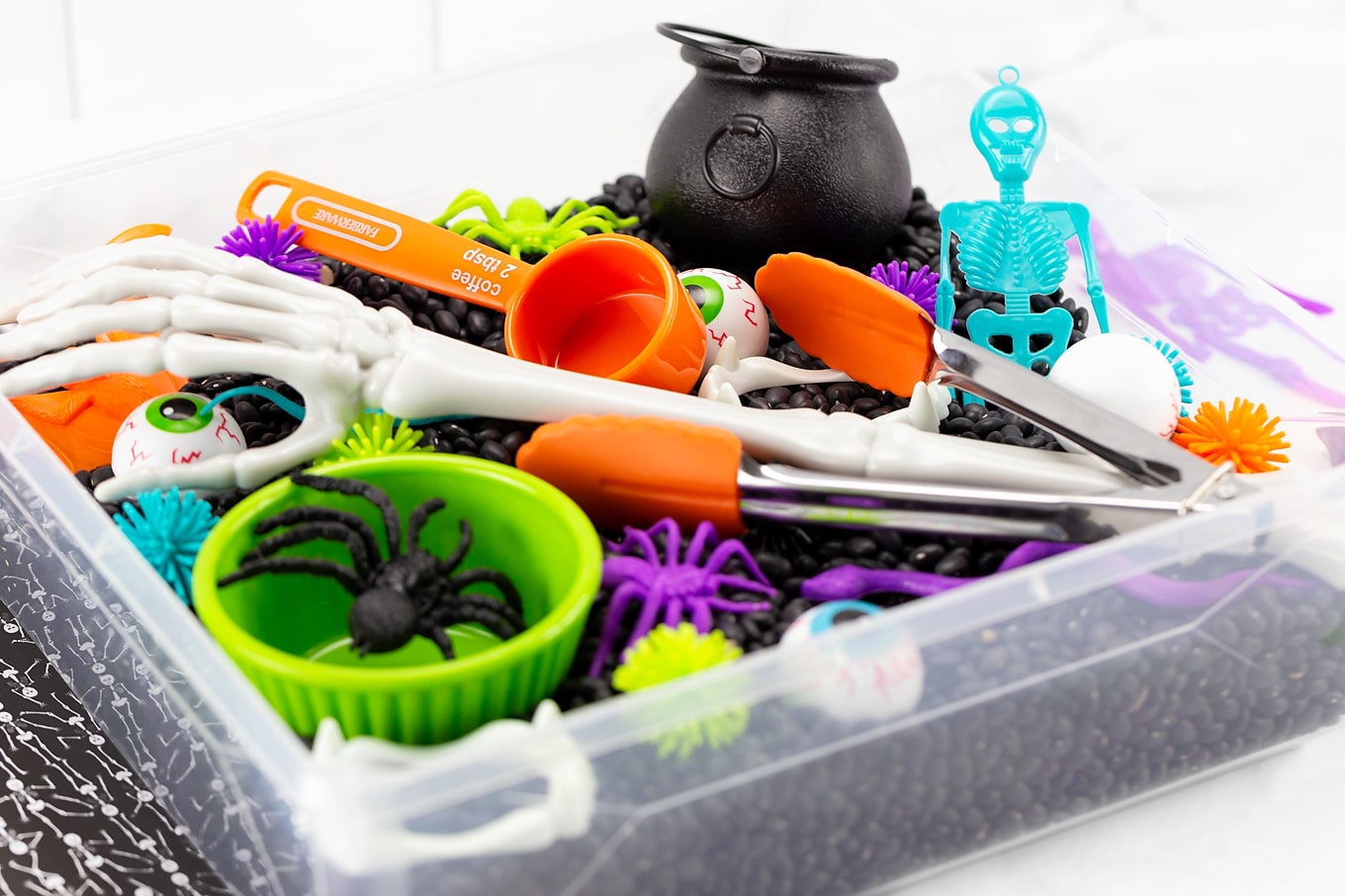 Video Tutorial: Halloween Sensory Bin
Watch the video below to be guided through each step of this sensory bin. You can view more easy kids craft tutorials on our Facebook Page, Pinterest Page, Teachers Pay Teachers Page, or right here on our website.
Pin this Activity
Don't forget to save this sensory bin on Pinterest for later! Be sure you are following along with Fireflies and Mud Pies here.