This easy and fun butterfly stick puppet is the perfect craft for celebrating the September migration of the monarch butterfly. Not only is this interactive craft fun to color and make, but it's fun to play with too—the wings really flutter in the air!
Related: How to Make a Fluttering Paper Butterfly Craft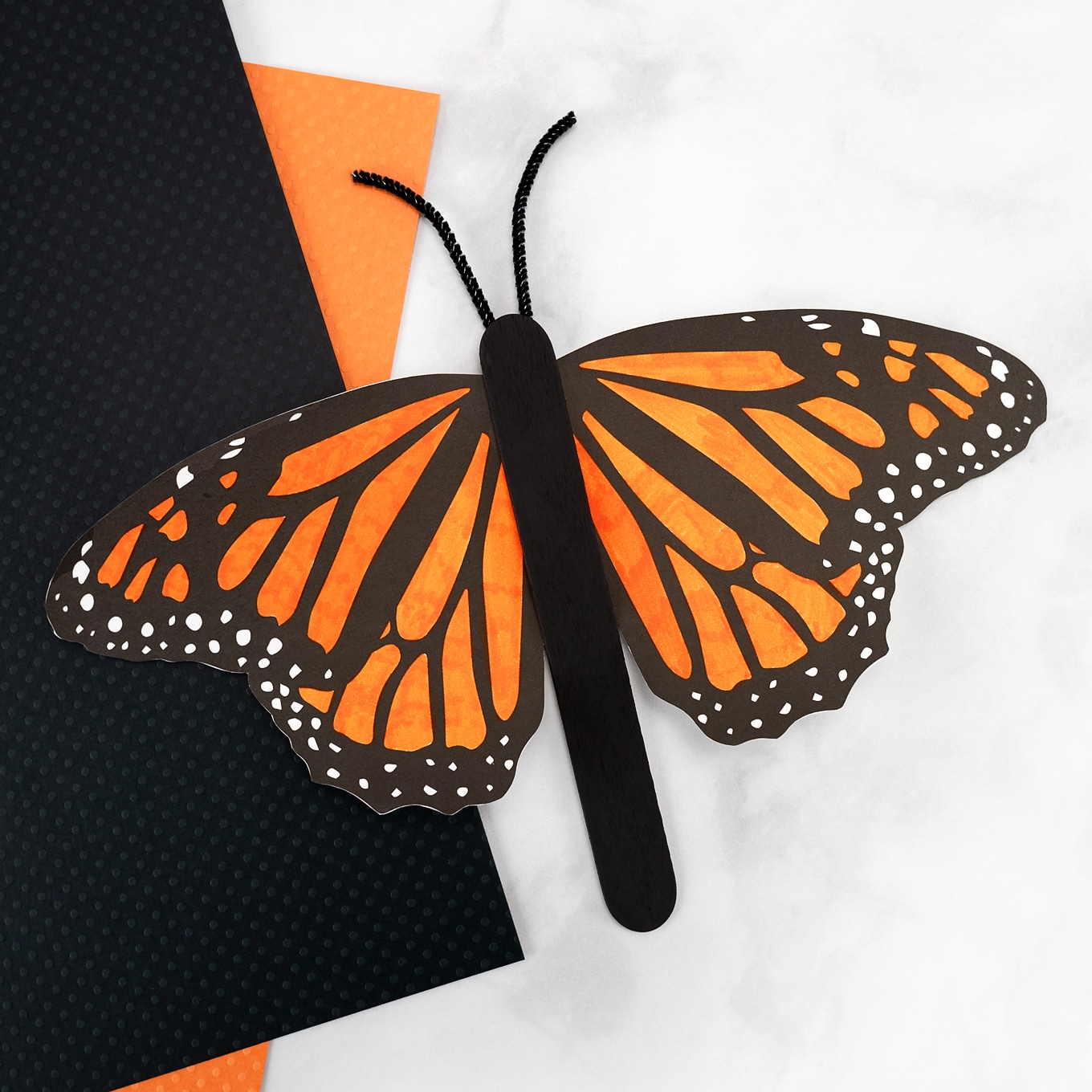 Butterfly Stick Puppet
Perfect for home, school, and butterfly-themed community programs, this color and cut butterfly stick puppet is an easy, inexpensive, and engaging craft for kids of all ages. Pair this craft with: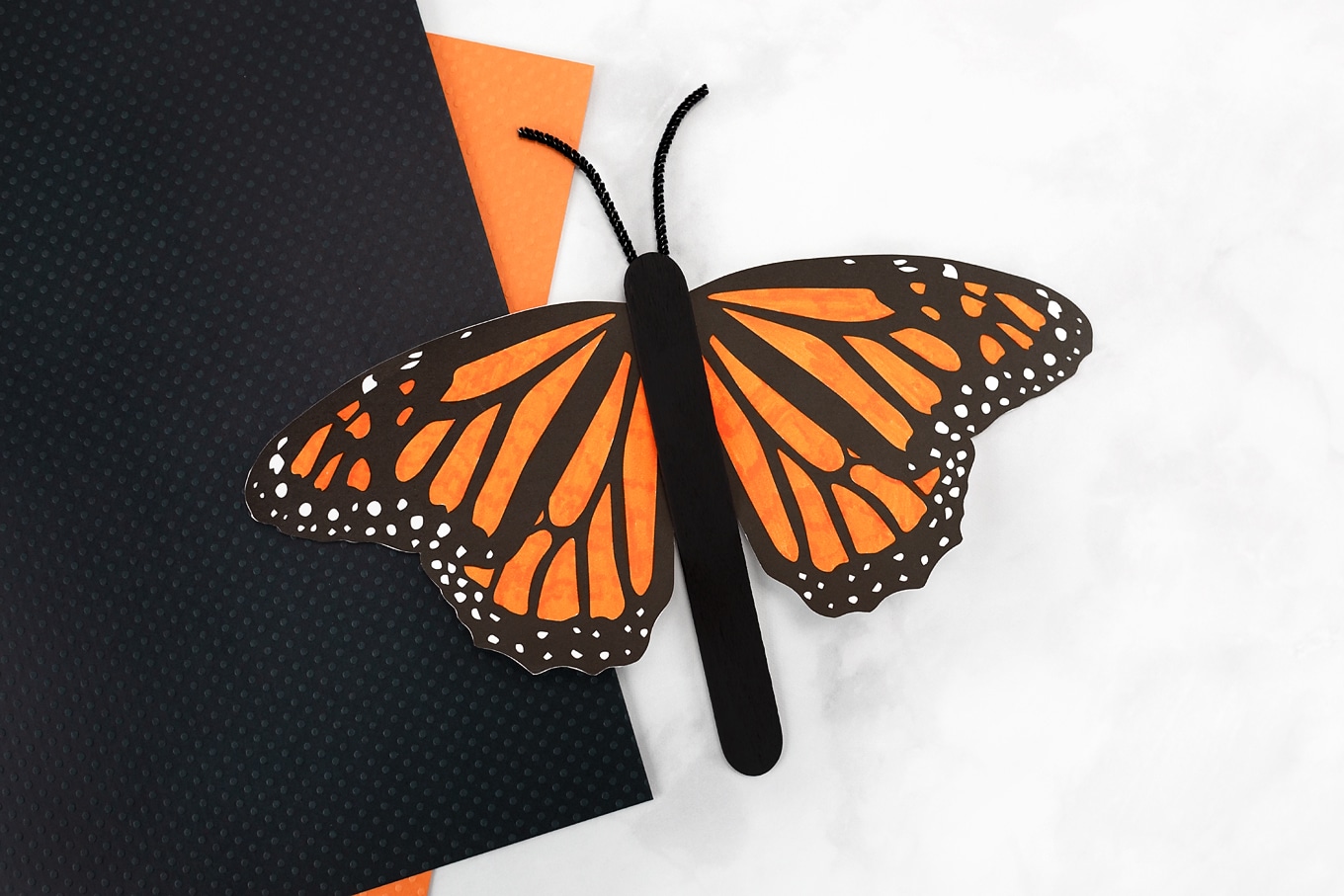 Craft Supplies Needed for Butterfly Stick Puppet
Directions for Butterfly Stick Puppet
1. Print the monarch butterfly wings template on white cardstock. Each child will need one copy of the template.
Related: Coffee Filter Monarch Butterfly Craft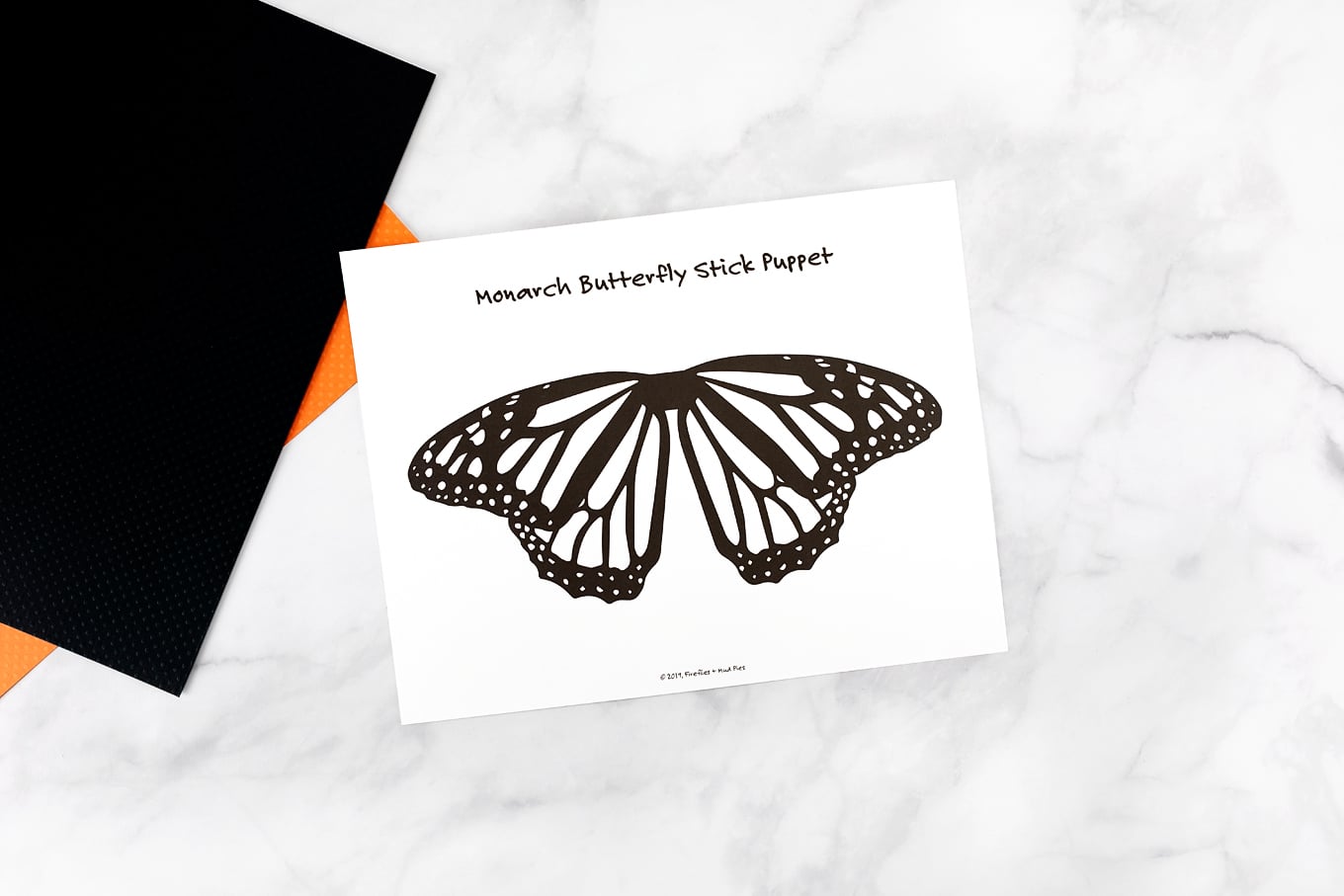 2. Invite your child to color the monarch butterfly wings template with an orange marker, crayon, or colored pencil. Next, cut out the pattern with scissors.
Note: Monarch butterflies may be orange to warn predators that they are poinsonous, but wouldn't this butterfly wings pattern look awesome colored in with a rainbow of colors? I think we'll have to try that next…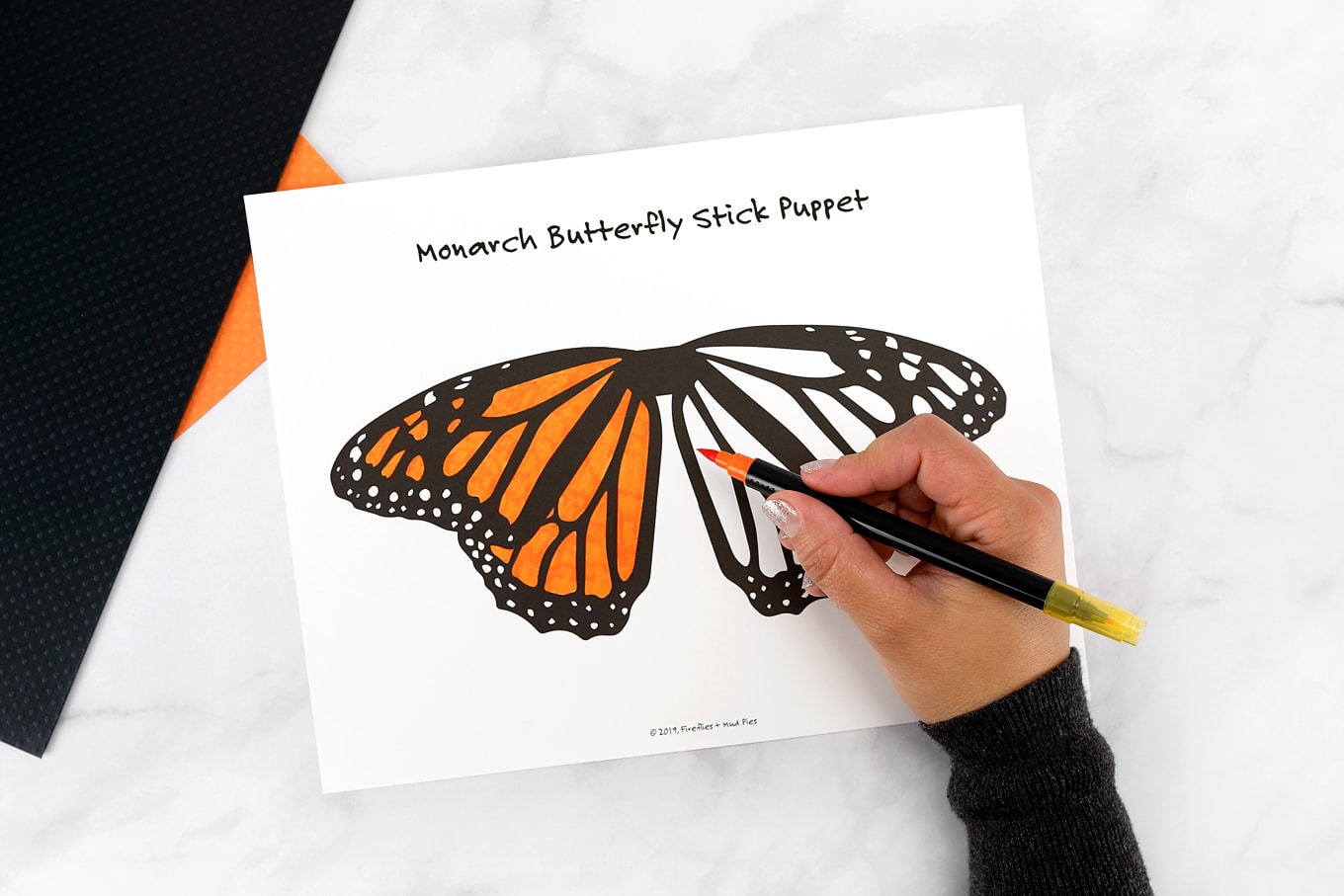 3. Paint the craft stick with black acrylic paint. Allow the paint to dry completely before moving onto the next step.
If you want to get technical, you could dip the end of the paintbrush into white acrylic paint and dab 6 dots on the craft stick near the butterfly's head, just like a real monarch!
4. Glue the butterfly wings to the back of the black craft stick.
5. Next, cut a black pipe cleaner in half with scissors. Bend one of the pieces into a V to make antennae, then glue it to the back of the craft stick. Hot glue works best!
6. Invite your child to hold the craft stick, then gently shake their hand up and down. The butterfly wings really flutter!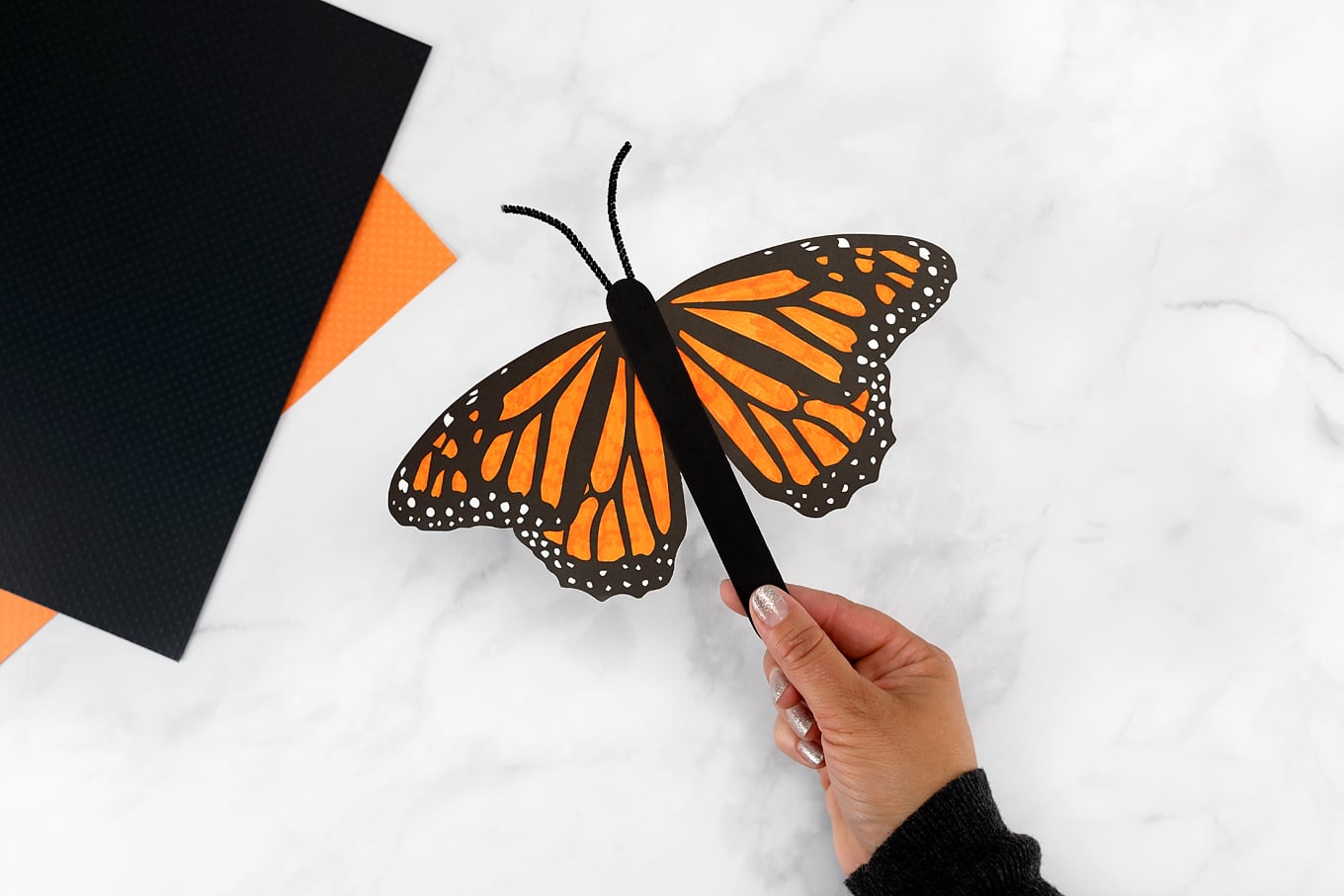 Can you imagine a room full of children—toddlers, preschoolers, and school-age kids—sitting in a group and fluttering their vibrant monarch wings all at once? It would look just like a beautiful roost of migrating monarch butterflies!
Video Tutorial: Butterfly Stick Puppet
Watch the video below to be guided through each step of this craft. You can view more easy kids craft tutorials on our Facebook Page, Pinterest Page, Teachers Pay Teachers Page, or right here on our website.
Save This Craft
Don't forget to save this craft on Pinterest for later! Be sure you are following along with Fireflies and Mud Pies here.