Do your children receive a weekly allowance? We haven't implemented one yet, but have been thinking about it as the boys grow increasingly interested in money. They have figured out that Mommy and Daddy earn money through work, and that money pays for our needs and wants. A weekly allowance would be an awesome, hands-on opportunity for the boys to learn about saving, giving, and spending. In the meantime, they've been saving pennies from in-between the couch cushions in adorable Mason Jar Superhero Banks I made this summer.
This post contains affiliate links. Opinions are my own.
The banks rest on the kids' dressers and are a cool accessory to their superhero bedroom decor. Every so often, one of the boys dumps their jar on the floor and sorts the change by size or color. If they don't pick it up, I get to keep it! My oldest son, who is learning to count money, is saving for a new Transformer. My youngest son is saving for Batman Legos. They both want to donate half their change to the Milwaukee Zoo to help feed animals.
Mason Jar Superhero Bank Tutorial
Want to get your kiddo saving too?
Materials Needed:
Directions:
1. Spray paint the jars, caps, and jar rings in a well-ventilated area.
2. While your materials are drying, sketch the Batman and Superman emblems on duct tape with a pen (don't worry about extra pen marks, as a cotton swab dipped in rubbing alcohol will remove those). If you lack artistic skill, print images off the internet, cut them out, and trace.
3. Cut out the shapes with the X-ACTO Knife. I layered duct tape to create the Superman emblem (cut out the red shape first, then place it on top of the yellow tape). The duct tape will peel easily off the cutting mat.
RELATED: Free Printable Superhero Bingo Game
4. When the jars are dry,  put the pieces together and center the emblems in the top third of the jar.
I'd love to hear about how you've implemented allowance in your family. Hop over to the Fireflies and Mud Pies Facebook Page to share your best tips for teaching kids to save, spend, and share their earnings.
More Simple Mason Jar Crafts
Shared below are some more simple mason jar crafts and DIY solutions!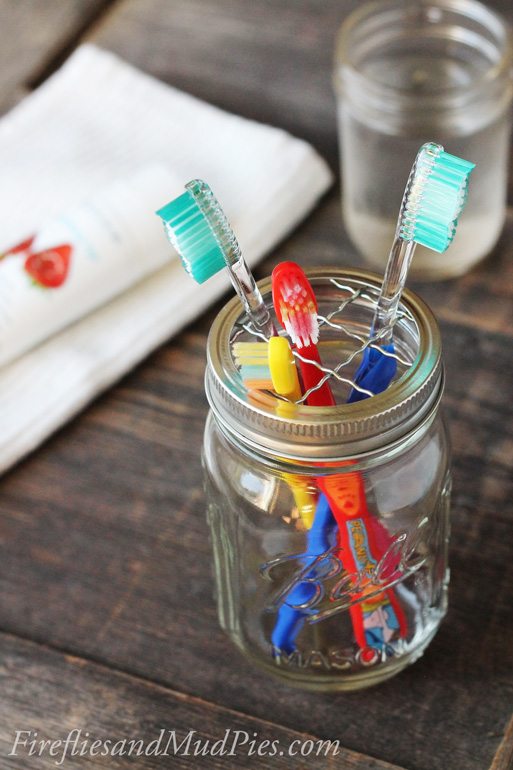 Mason Jar Lid Pumpkin Suncatchers