In cold winter climates, it can be challenging to convince children to go outside to play. The weather may be bitter, windy, snowy, and wet. Some children, like my youngest son, dislike the heaviness of snow boots and the thick, restricting feel of snow-pants. Still, you'll discover that with just 20 minutes of outdoor play in crisp air, your child will sleep better at night. Being outside will ground and calm him. And once outside, he will find something interesting to do! Shared below are Winter Play Tips for having fun and playing safe in winter!
Are you following my Winter board on Pinterest?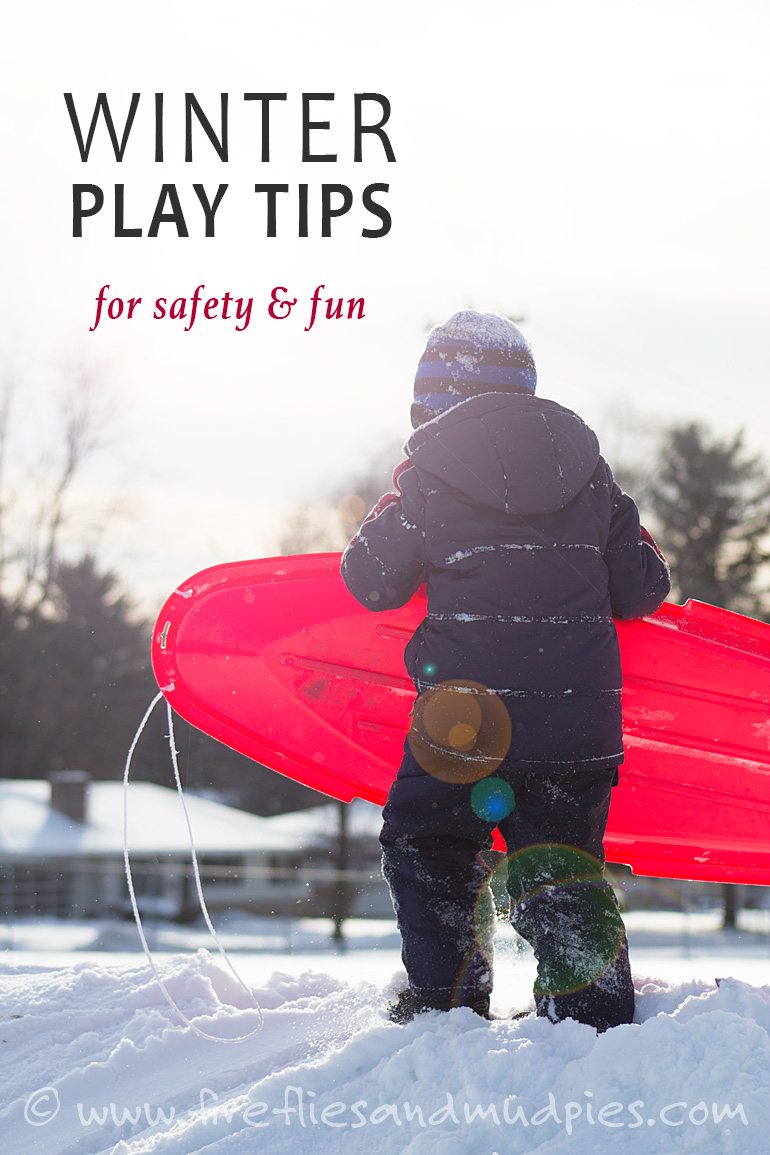 This post contains affiliate links. Opinions are my own.
Winter Dress Code
It's simple, really. If my kids get cold, they will want to come back inside. If they are inside, they will drive me crazy aren't getting the fresh air and outdoor exercise essential for their emotional and physical development. When I send my boys out to play, they wear 3 layers on their body: thermals, regular play clothes, snow pants, and a coat. On their feet they wear a single pair of merino wool socks and warm, winter boots. They also wear a hat and gloves or mittens! One does not need to spend a a small fortune on winter outer-wear for kids. I often find everything I need—including high quality Baffin Boots —from consignment shops!
Toddler Tip: Do gloves and mittens constantly fall off of your child? Have you given up on sending your child outside because keeping his hands warm is always an issue? No joke, sock hands are the solution to your problem.
With your child's coat off, slide a sock over each of your child's hands.
Slip a plastic bag over the socks on your child's hands.
Next, slide an adult sized wool sock over the plastic bag (it's best if the sock fits up to their elbow snugly).
Help your child into their coat and poke their hands out through the arm-holes.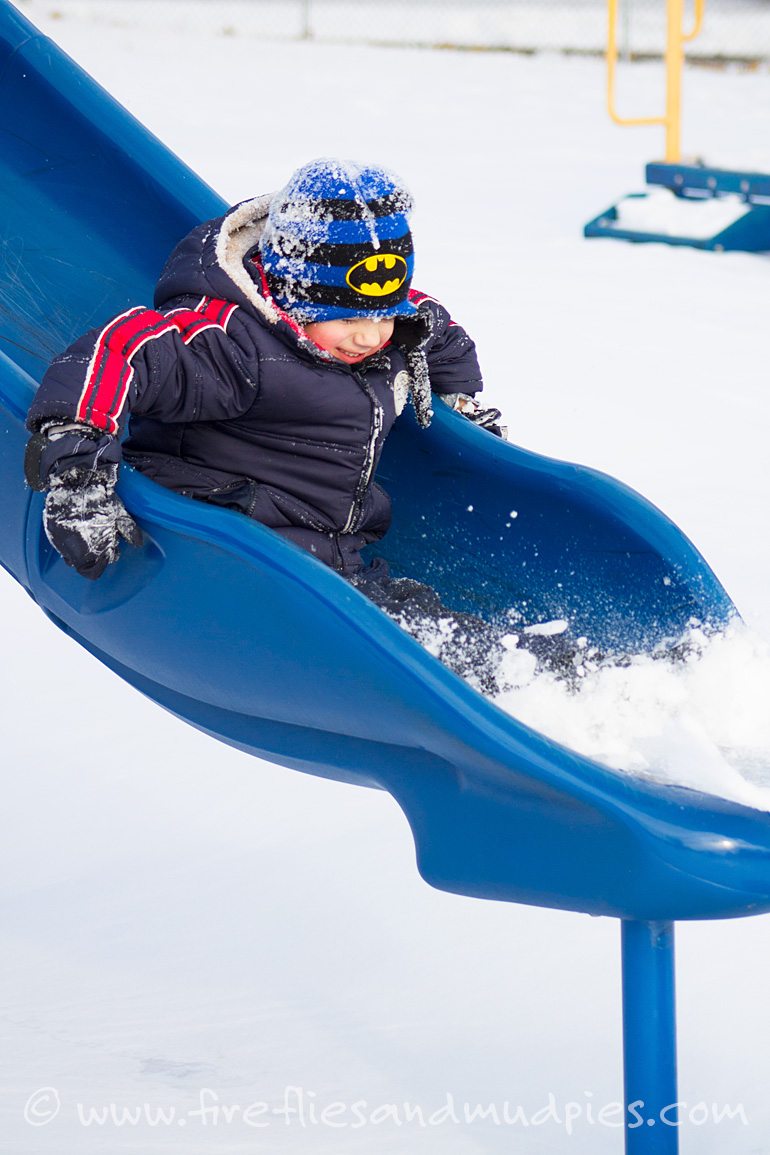 Winter Play Safety
Do you live near water? It is imperative that your child clearly understands your family rules about playing near ice. Are their many icicles hanging from your roof? Either knock them down in advance or instruct your child to stay away from them. Are your children going sledding? Teach kids how to properly "bail" a sled before a collision. Advise your child to walk up the sides of sledding hills instead of the middle so they don't block sledders or get run over.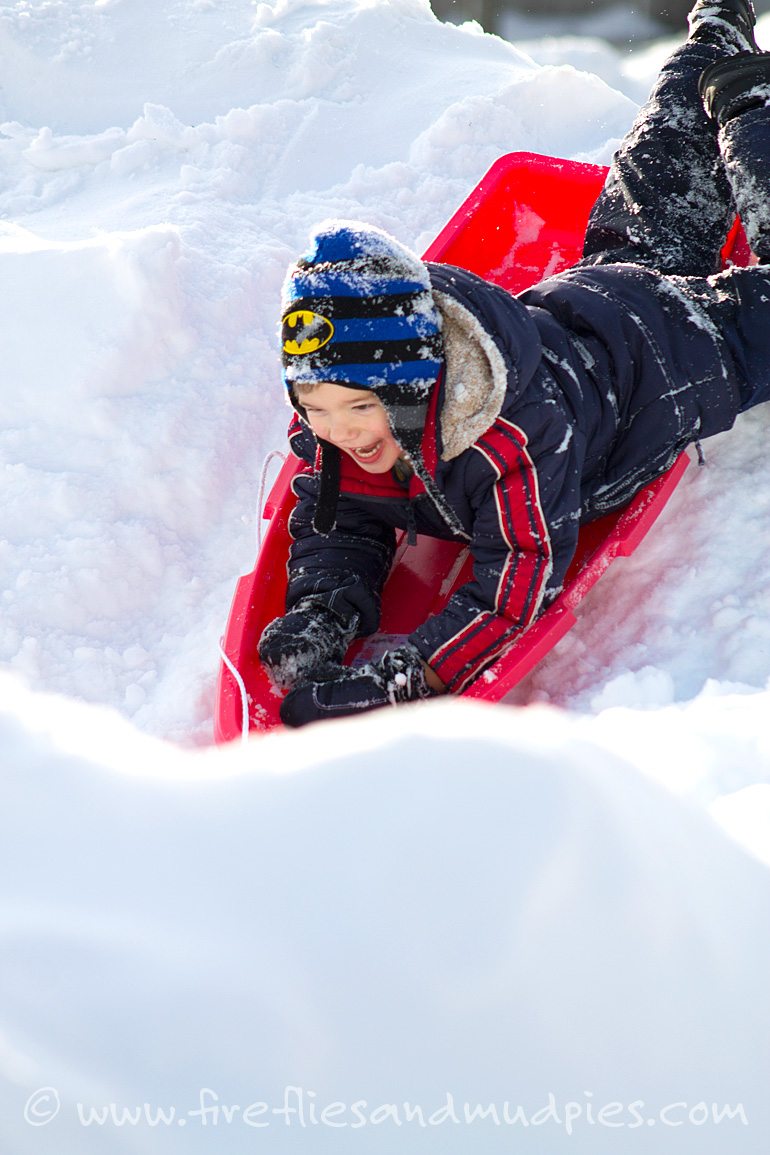 Games and Activities

Once outside, there are plenty of activities and games for small children to enjoy. Here are a few of our simple favorites.
Winter Nature Hikes
On a winter nature hike, it's fun to search for animal tracks and winter birds.
Sledding
Basic sleds have been our best winter purchase this year. The boys use them daily for sledding and towing stuff around.
Winter Bird Feeder
Use snow and ice to create beautiful winter bird feeders! Your feathered friends will appreciate it!
Frozen Bubbles
Blowing bubbles and watching the freeze is an amazing winter science experiment!
Ice Experiments
We enjoy walking down to the frozen lake to throw rocks and sticks onto it. My boys like the thwank thwank of objects as they bump and slide along the ice. They also enjoy using sticks to break up ice close to them while watching the air bubbles float under the surface, and then trying to pull in the chunks of ice to play with or throw. We observed how heavy rocks dented and cracked the ice, while smaller ones smoothly slid to the middle of the lake.
Snowman Building
What a sense of accomplishment and pride children feel as they build a snowman all by themselves!
Building Snow Forts
What child doesn't love a snow fort?
Freeze Ice Jewels
Use water balloons and liquid watercolor to create ice jewels for your child!
Work Projects
My boys love to help shovel, spread salt, and bring in firewood. These "grown-up" jobs increase self-esteem and teach about how families function as teams—everyone can contribute—no matter how small!
Sugar on Snow
Boil pure maple syrup to the hard candy stage and pour it into fresh, cold snow to create your own pure maple candy!
As my children have already figured out, the best part about playing outside is coming back inside with refreshed, rosy cheeks for a mug of steaming, hot chocolate!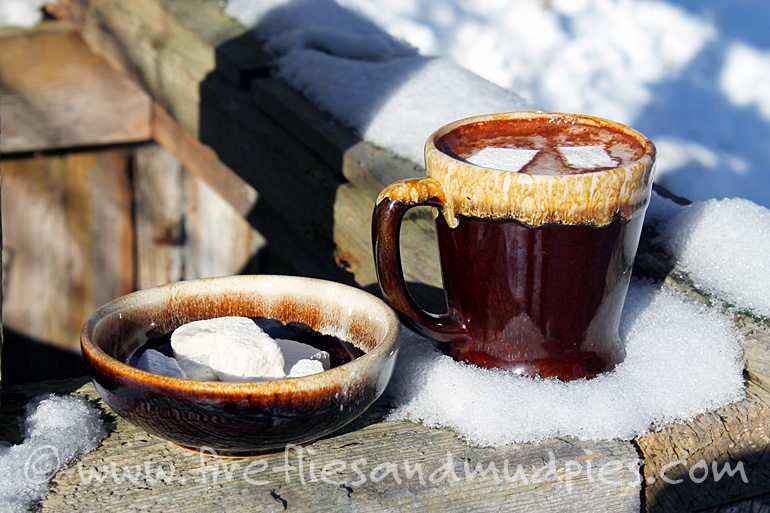 How do your kids play outside in winter?