When I think about gazpacho, I dream of sultry days, sidewalk cafes, and sundresses. Traditionally a summer soup best served with a hunk of crusty bread or cheddar quesadillas, gazpacho has a hot weather reputation.
In the fall, gardens and farmer's markets are still in full swing offering a variety of seasonal, fresh produce. Last week at our local farmer's market, I found all I needed to create a batch of harvest gazpacho.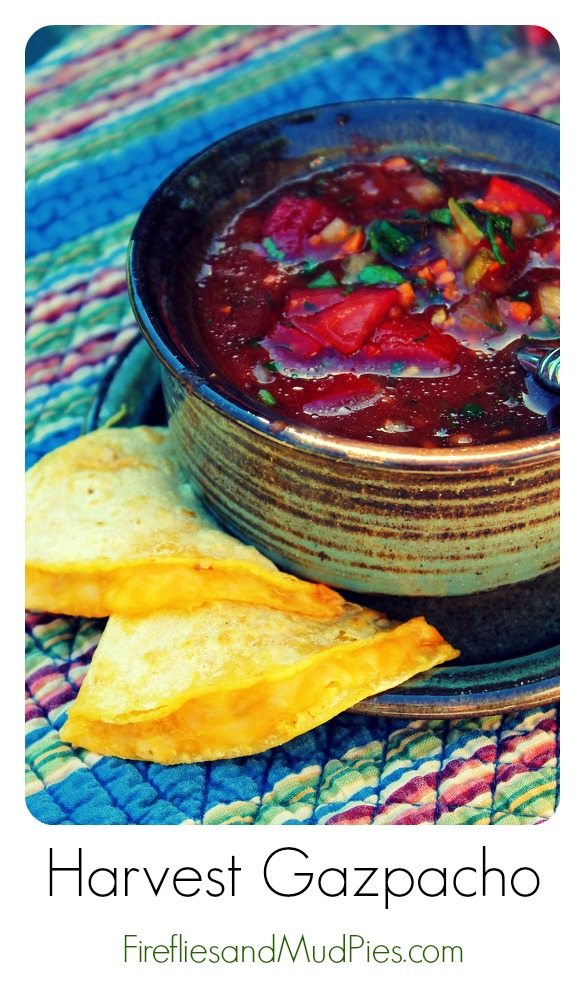 I call it harvest gazpacho because of the season and the addition of fresh, locally grown corn.
Ingredients:
32 ounces tomato juice
4 fresh tomatoes, cored and diced
1 small bunch chives (chopped)
1 cucumber (seeded and finely diced)
1 sweet pepper (diced)
1 carrot (finely diced)
1 small red onion (finely chopped)
1/2 jalapeno pepper
1 large garlic clove, diced
Juice of 1 lemon
Juice of 1 lime
1 TBSP extra virgin olive oil
1 tsp ground cumin
2 tsp salt
1 tsp sugar
Freshly ground black pepper to taste
1/2 cup chopped cilantro
1 cup of steamed, fresh corn (scraped off the cob)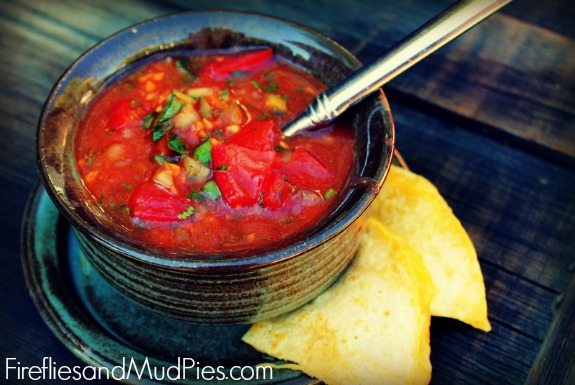 Directions:
1. Use a food chopper (affiliate link) to finely dice all of the ingredients, except for the tomatoes and corn. Use a knife to slice the tomatoes into small pieces and to scrape the steamed corn off the cob.
2. Combine all of the prepared ingredients with the tomato juice. Allow the soup to rest over night so the flavors can marry.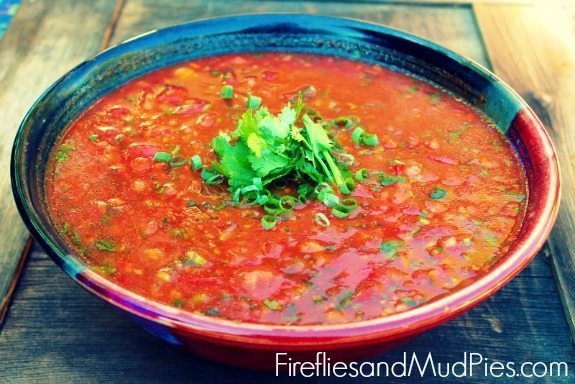 My boys enjoyed the gazpacho by dipping their quesadillas and corn chips into it. So yes, I would call harvest gazpacho kid approved! Enjoy!