I'm sharing #StartAStoryAdopt in my life as part of a Shelter Pet Project by Ad Council sponsored series for Socialstars™.
I'm so pleased to support The Shelter Pet Project, a collaborative effort between two leading animal welfare groups, The Humane Society of the United States and Maddie's Fund, and the Ad Council, to introduce you to our ten-year-old yellow lab mix and former shelter dog, Thatcher.
Ten years ago, my husband and I adopted Thatcher from a crowded Chicago animal shelter when he was just 10 weeks old. When we brought him home, he was in poor health—malnourished, fearful, and swollen with worms. He was quiet—not a typical exuberant, bouncing puppy. His sweet brown eyes shared that he had experienced a rough start in life. He was very submissive, never behaved in an aggressive manner, didn't know how to play with people or toys, and always ate with his body completely pressed against the wall.
Our Shelter Pet Story
Of course we will never know for sure what happened in Thatcher's past, and that isn't important. I want to tell you about the kind of friend he has become and what an important member of our family he is.
Knowing we planned to have children some day, we signed Thatcher up for "Puppy Kindergarten" and spoiled him with love. My husband, a Residential Camp Director, brought Thatcher to work everyday. As his trust in us grew, so did his affection.
At camp, Thatcher enjoyed walking the grounds with my husband, swimming, and relaxing in the sun. At home we would enjoy long walks, play in the yard, obedience class, and visits to the local dog park. His sweet brown eyes softened and showed gratitude, love, and devotion. Thatcher had found his forever family!
Like most young families, eventually a new baby was expected! During my pregnancy, Thatcher stayed close to my side, following me from room to room, resting his head on my growing belly, and sleeping on the floor on my side of the bed.
When our first son came home, Thatcher was so pleased (probably because he didn't have to follow me to the bathroom anymore!). He immediately accepted our son as a member of our family and was often found lying near the crib, car seat, or play mat. Occasionally he tried to share his toys!
As my children grew up, Thatcher became their most loyal friend. He sleeps in their room, walks with them to and from the bus stop, and joins them for story time every night.
He's gentle, loving, protective, and playful! He knows exactly what to do to engage our boys (and all of the children in our neighborhood) in his favorite game, Get the Puppy!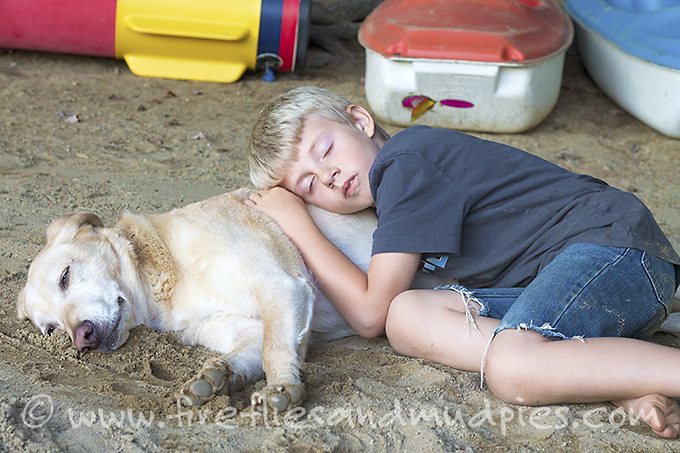 At summer camp, he's the kind of dog that will find the sad, homesick camper and sit beside her, allowing her to pet him for as long as it takes to cheer up and feel ready to participate in camp activities again. I think he has a strong sense for human emotion.
Perhaps his only fault is year-round shedding! But that's a small price to pay for a good-natured, loyal, sweet companion.
If you're considering getting a pet, please consider adopting from your community animal shelter. I truly believe that shelter pets feel thankful for being rescued and reward their families with lifelong loyalty and love.