From the swish of falling leaves to the gentle thud of acorns dropping to the ground, nature provides a bounty of free craft supplies in the fall. Perhaps the best part of nature crafting is getting outside as a family to collect, observe, and play! Shared below are 25 fall nature crafts for kids, perfect for displaying at nature tables, in bowls, or on your autumn mantle.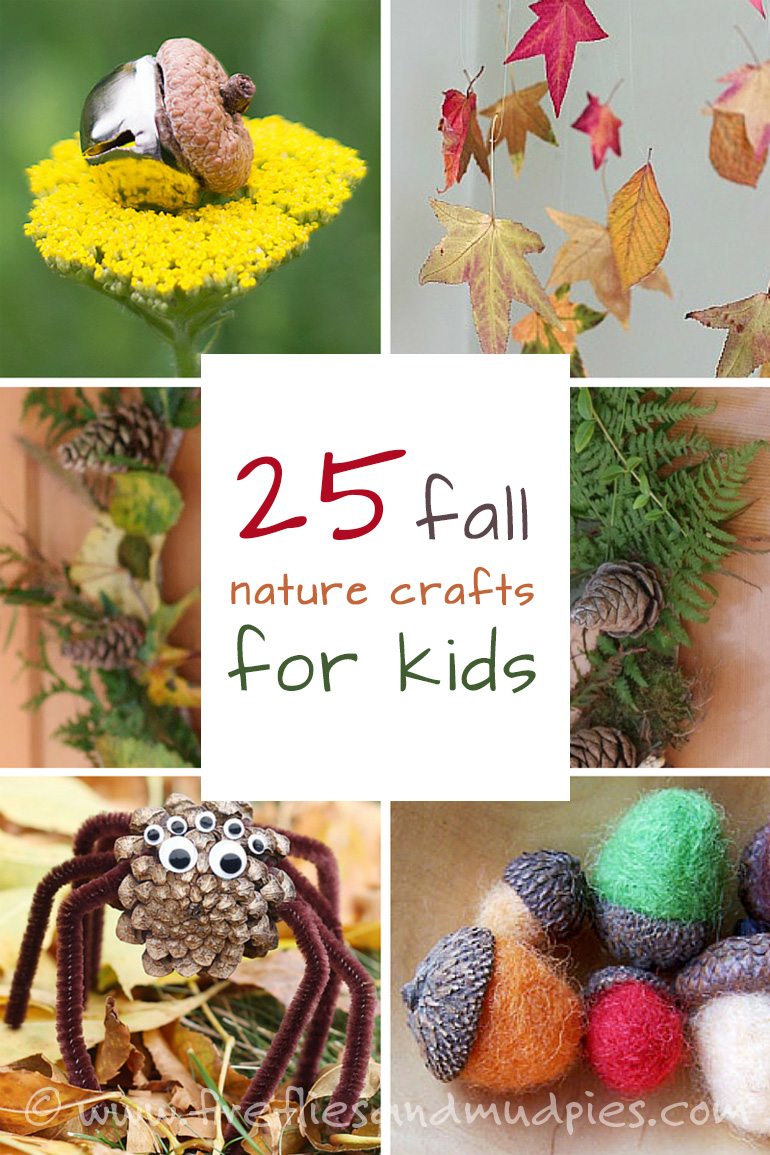 If you are passionate about getting kids outside for play, you may enjoy following along on Pinterest with Kids in Nature and Nature Crafts for Kids. They are collaborative boards packed with inspiration for outdoor play and nature crafting!
25 Nature Crafts for Kids
Acorn Bells | Fireflies and Mud Pies
Collect fallen acorns and create whimsical bells for fall decor or fairy houses.
Fall Nature Wreath | Fun at Home with Kids
A beautiful and simple kid-made wreath for fall.
Bark Owls | Fireflies and Mud Pies
Use bark and acorns to create adorable owls.
Fall Centerpiece Craft | Housing a Forest
Nature, art, and sensory play come together in this lovely fall craft.
Pinecone Apples | Fireflies and Mud Pies
A darling ornament for teachers that kids can make themselves.
Acorn Wreaths | Craftulate
Use acorns and glue to create a unique fall wreath.
Pinecone Spiders | Fireflies and Mud Pies
Creepy, yet cute, kids will love crafting spiders with fallen pinecones.
Acorn Peg Dolls | Rhythms of Play
Acorn caps adorn the head of adorable peg dolls.
Woodland Fairy Folk | Twig and Toadstool
Use all natural materials to create whimsical fairy folk.
Acorn Stamping | My Nearest and Dearest
Collect acorns under an oak tree and use them for art!
Pinecone Fairies | Red Ted Art
Pinecones and acorns are used to create sweet nature fairies.
Acorn Cap Jewels | Dabbling Momma
Shimmering acorn jewels are perfect for decoration or creative play.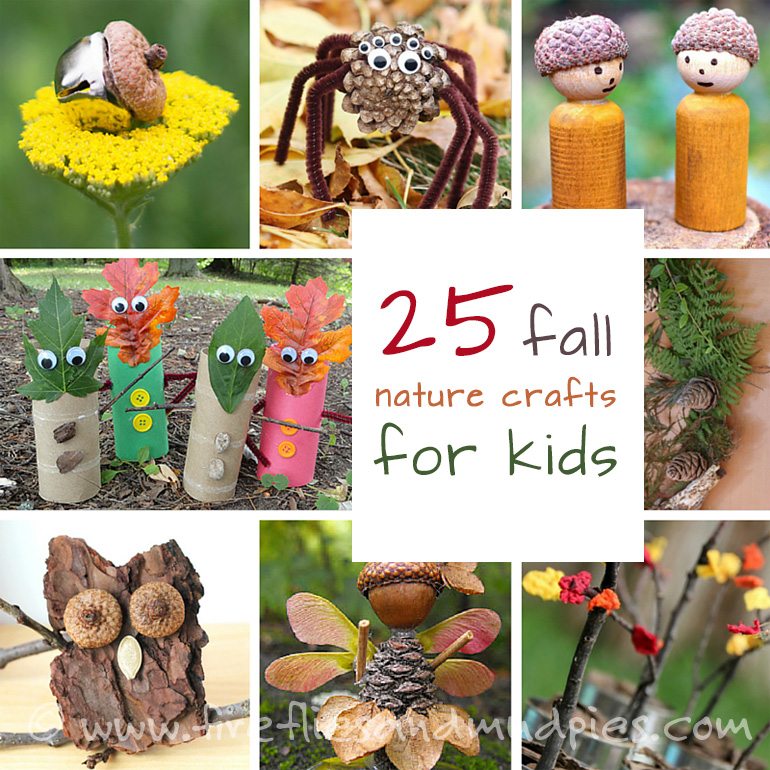 Fall Leaf Crown | Rain or Shine Mama
Use items collected from a nature walk to create a crown fit for royalty.
Fall Nature Collages | Happy Hooligans
Especially perfect for preschoolers, this kid-made collage is easy to make.
Fall Leaf Mandalas | The Artful Parent
Collect colorful leaves and arrange them into a gorgeous mandala.
Stamped Leaf Shirts | Fireflies and Mud Pies
Use fallen leaves and fabric paint to create one-of-a-kind shirts.
Fall Leaf Lanterns | Happiness is Here
Press leaves onto glass jars to create gorgeous fall lanterns.
Pet Rocks | Fun-a-Day
Collect rocks on your fall nature hike and have a little fun with them!
Classic Pumpkin Painting | Fireflies and Mud Pies
Visit a pumpkin patch, pick a pumpkin, then paint it outside on a cool fall day.
Leaf Mobile | Buggy and Buddy
Learn 3 ways to preserve fall leaves to make a beautiful leaf mobile.
Fall Leaf Lacing | Rhythms of Play
Fall leaves are the perfect natural material for practicing fine-motor skills.
Fall Leaf Finger Puppets | Crafts by Amanda
A cute fall craft for preschool!
Salt Dough Leaf Impressions | The Imagination Tree
Use fallen leaves and salt dough to create beautiful fall keepsakes.
Painted Leaf Critters | Tinkerlab
Take a break from painting on paper—use leaves instead!
Felted Acorns | Playful Learning
Kids will enjoy learning how to felt wool to create gorgeous Waldorf-inspired acorns.
Connect with like-minded mothers from around the world!
Facebook | Pinterest | Instagram | Twitter