Courage, the ability to do something difficult despite risk or fear, can be a challenging character trait for kids to understand. The children's books about courage shared below teach kids about the various forms of courage—physical, emotional, social, moral, spiritual, and intellectual—and why they matter.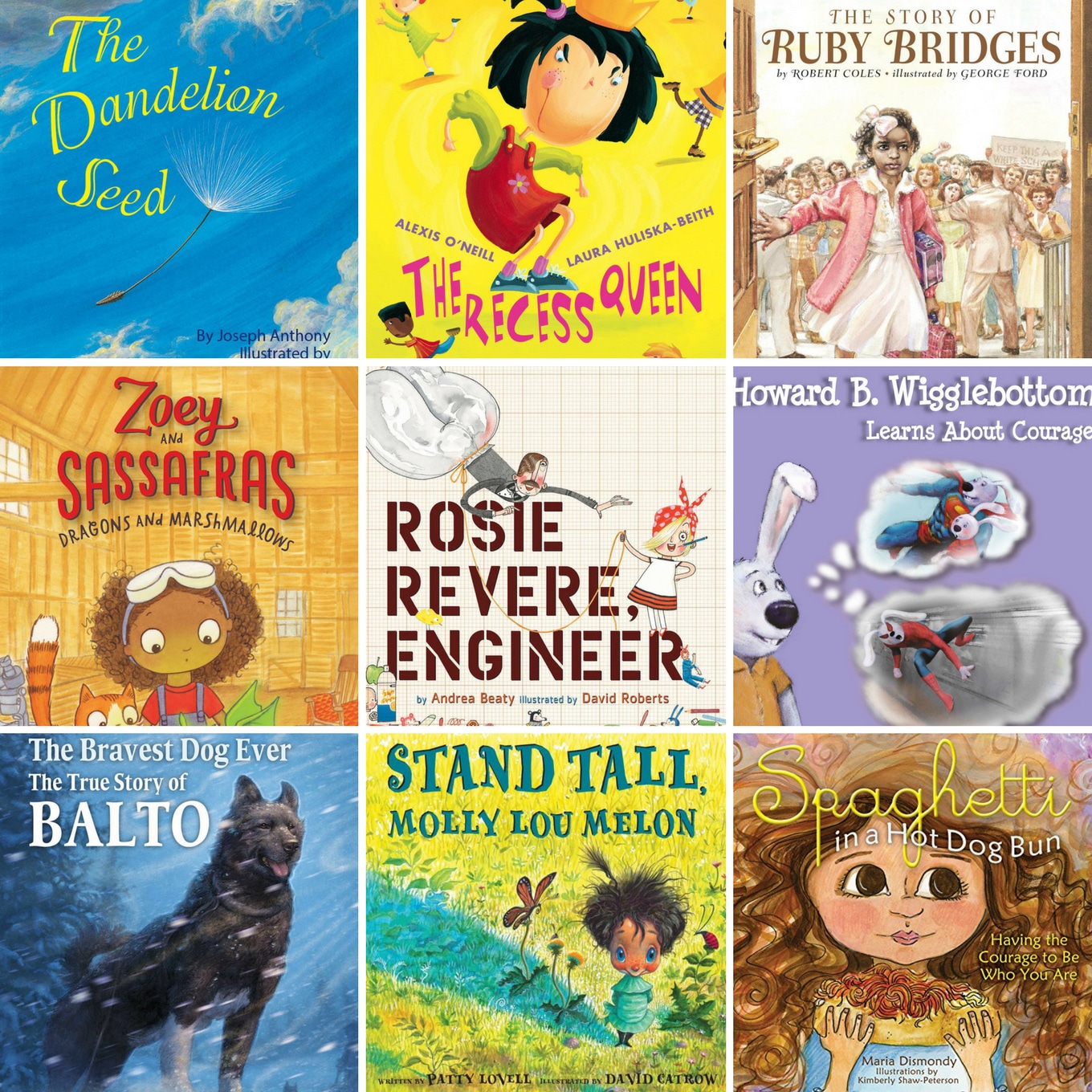 This post contains affiliate links. Opinions are my own.
The Diving Board
As he stood on the diving board, a quiver shook through his legs. I watched his chest rise as he took a deep breath, pulled his arms into dive formation, and jumped. I held my breath until he emerged. "I did it!" he smiled, water lapping around his face.
"You did! You must feel so proud!" replied his instructor.
Later that day, we talked about how jumping off the diving board for the very first time was an act of courage. Kids develop courage as they grow and take on more physical, emotional, social, moral, spiritual, and intellectual risks. Climbing a tree, standing up against bullying, and confessing to Mom that you were the one who ate the Oreos are all acts of courage that kids can easily relate to.
20+ Heartwarming Children's Books About Courage
The books listed below share relatable, heartwarming stories of courage that entertain, educate, and inspire. As you read, talk about how the characters (or people and animals) in the story demonstrate courage in the face of adversity, then invite your child to share their personal connections.
Click through to read each book description and get a peek inside!
Real Kids, Real Stories, Real Change
The Bravest Dog Ever: The True Story of Balto
Henry's Freedom Box: A True Story from the Underground Railroad
Howard B. Wigglebottom Learns About Courage
Swimmy
Spaghetti in a Hot Dog Bun
Courage
Stick and Stone
Wonder
Stand Tall, Molly Lou Melon
One Tree
Have Courage!
Journey
The Butterfly
Secret of the Peaceful Warrior
A Teaspoon of Courage for Kids
The Tale of Despereaux
Take a Deep Breath
I Can Do It!: Kids Talk About Courage
How to Eat Fried Worms
Sheila Rae, the Brave
Brave Irene
The Story Of Ruby Bridges
Brave Charlotte and the Wolves
The Dandelion Seed
The Recess Queen
Enemy Pie
The Princess Knight
The Paper Bag Princess
The Little Engine That Could
I'm Gonna Like Me
Only One You
The Bravest of Us All
Thunder Rose
Stuart's Cape
If I Never Forever Endeavor
Roly Poly Pangolin
My Diary from Here to There
Sylvester and the Magic Pebble
Rosie Revere, Engineer
Dragons and Marshmallows
A Girl Named Helen Keller
I am Rosa Parks
Puddle Jumping
Stellaluna
Pin It for Later